Gujarat Phase III Solar Policy to be announced at the Indian Solar Summit 2012, Gandhinagar on 19-21 April 2012
The International and Indian solar communities are gearing up for the latest policy announcements for Phase III of the Gujarat Solar Policy.

Government officials have declared that an updated policy will be launched at the Indian Solar Summit, which is being organized by Solar Media and the Confederation of Indian Industries.
As part of the event, all conference attendees, media and Government officials will attend the Official inauguration of the Charanka Solar Park, conducted by Chief Minister Sri Narendra Modi. The Solar Park currently has over 200MW completed solar power, with a further 300MW yet to be allocated.
Updates on the Phase III policy and changes to the allocation process will be announced during the conference element of the summit, which will be held in Gandhinagar on 20th & 21st April at the Mahatma Mandir Convention Centre.
Solar Media's Event Director, Stewart Bundock said: "In addition to being a celebratory occasion, the official inauguration of the Charanka Solar Park, really puts India on the map. There are very few places in the world that can match India's ambition and desire to become a genuine global solar power."
International solar executives are travelling to the event from North America, Europe, China and Australia – all are eager to hear the new announcements and get become involved in what will be an exciting new phase for the Gujarat Solar Mission.
Further information on the event can be found at www.solarsummitindia.com or call Gopesh Nair on +91 991 361 4828 or Laura Pleasants on +44 20 7871 0123 for further information. Email: info@solarsummitindia.com
Featured Product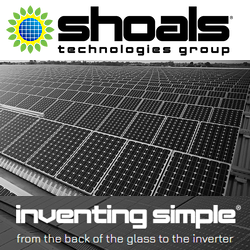 Inventing Simple® isn't just a slogan to us, it's a way of life. Using simple plug-and-play ideology, we revolutionized solar installations in 2003 with our Interconnect System™. Our harnessing system is now the gold standard EPC's use around the world. By using simple ideas, we are making solar energy a more affordable and clean power source for future generations.