The ability to transport electricity on glass windows while remaining see-through is especially important to the eventual deployment of an aesthetically pleasing commercial product.
Columbia, MD - March 15, 2012 -New Energy Technologies, Inc. (OTCQB: NENE), a developer of innovative technologies for generating sustainable electricity, announces that Company and NREL scientists collaboratively developing New Energy's SolarWindow(TM) technology - capable of generating electricity on see-through glass - have successfully collected and transported electricity using a virtually 'invisible' conductive wiring system developed for SolarWindow(TM). The ability to transport electricity on glass windows while remaining see-through is especially important to the eventual deployment of an aesthetically pleasing commercial product.

Currently under ongoing development, the conductive system's ultra-fine grid-like pattern is deposited on to SolarWindow(TM) and is rendered virtually invisible when viewing objects through New Energy's electricity-generating glass. Researchers anticipate that a fully functional system could help transport the electricity generated on glass surfaces, improving power, efficiency, and overall performance of the Company's SolarWindow(TM).
Today's announcement follows last month's major breakthrough when Company and NREL scientists collaboratively developing New Energy's SolarWindow(TM) technology successfully fabricated the largest-area organic photovoltaic (OPV) module produced at the United States Department of Energy's National Renewable Energy Laboratory (NREL). Scientists developing New Energy's SolarWindow(TM) technology fabricated a large area working module, more than 14-times larger than previous OPV devices fabricated at NREL.
NREL is among the world's most respected and advanced solar-photovoltaic research institutions, and over its 35-year history has been credited for ground-floor support of many of the commercial technologies employed by today's renewable energy industries. NREL and New Energy have been working through a Cooperative Research and Development Agreement to advance the Company's SolarWindow(TM) technology for generating electricity on glass windows.
"It's very exciting that we've not only achieved an important milestone with respect to the size of our SolarWindow(TM), but we are now able to confidently tackle two of the most important factors to eventual commercialization - the structure and transparency of the wiring system which transports the electricity generated on see-through glass, and overall performance," explained Mr. John A. Conklin, President and CEO of New Energy Technologies, Inc.
The prospect of generating electricity on SolarWindow(TM) is made possible when researchers creatively layer and arrange unique, ultra-small see-through solar cells on to glass. Each of these cells are arranged in a network and interconnected by way of the 'invisible' grid-like wiring system, announced today. Until now, such systems used in early SolarWindow(TM) prototypes were relatively thick and bulky, and applied to glass in ways that obstructed light, prevented the absorbance of light energy necessary to produce electricity, and significantly reduced transparency.
The 'invisible' wiring system is especially important to the ongoing development of SolarWindow(TM), most notably allowing for more efficient collection and transport of electrons, both important for improving circuit current and overall efficiency. The system helps mitigate electrical 'road-blocks,' which restrict the flow of electrons with regions of high resistance, by creating a kind of low-resistance 'highway' for electron transport; without the benefit of a conductive grid system, resistive losses can significantly reduce power production. A fully functional and optimized system could improve the reliability of SolarWindow(TM) by providing a stable network of connections among each of the interconnected solar cells on the see-through glass.
"This technical accomplishment is an important advancement for our SolarWindow(TM), and alongside our recent advancements with size and scale, clearly illustrates the success our research teams have achieved in recent months," concluded Mr. Conklin.
Researchers developing New Energy's SolarWindow(TM) technology have achieved significant improvements to the transparency of their newly-unveiled grid-like system since unveiling the Company's first-generation working prototype to a standing-room crowd of mainstream media, investors, academics, and commercial glass companies, over one year earlier.
Scientists demonstrated numerous features of New Energy's SolarWindow(TM), including its ability to remain see-through while generating electricity. Features of SolarWindow(TM), both natural and artificial light were used in demonstrations to generate electricity.
At the demonstration event, scientists powered lights on a scale-model house by exposing New Energy's see-through SolarWindow(TM) to artificial light from fluorescent lamps, mimicking lighting typically installed inside offices. In artificial light, SolarWindow(TM) technology outperforms today's commercial solar and thin-films by as much as 10-fold under low-intensity irradiance.
Researchers then repeatedly opened and closed the boardroom's window shades, successfully powering LED lights each time SolarWindow(TM) was exposed to natural light. This demonstration mimicked outdoor exposure such as sunlight on the exterior face of commercial buildings - New Energy's initial target market and a promising early application of its technology.
Importantly, scientists at the event demonstrated SolarWindow's ability to generate 'voltage' and 'current' necessary to power lighting and mechanical devices and appliances. In addition to lighting, scientists successfully powered the mechanical rotor blades of a small helicopter using only a single, small-scale SolarWindow(TM) prototype during their public demonstration.
Currently under development for eventual commercial deployment in the estimated 85 million commercial buildings and homes in America, SolarWindow(TM) is the world's first-of-its-kind technology capable of generating electricity on see-through glass windows.
About National Renewable Energy Laboratory (NREL)
NREL is the U.S. Department of Energy's primary national laboratory for renewable energy and energy efficiency research and development. NREL is operated for DOE by the Alliance for Sustainable Energy, LLC.
About New Energy Technologies, Inc. (NENE.OB)
New Energy Technologies, Inc., together with its wholly owned subsidiaries, is a developer of next generation alternative and renewable energy technologies. Among the Company's technologies under development are:
(MotionPower(TM)) roadway systems for generating electricity by capturing the kinetic energy produced by moving vehicles - a patent-pending technology, the subject of 33 US and International patent applications. An estimated 250 million registered vehicles drive more than six billion miles on America's roadways, every day; and
(SolarWindow(TM)) technologies which enable see-thru windows to generate electricity by 'spraying' their glass surfaces with New Energy's electricity-generating coatings - the subject of 10 patent applications. These solar coatings are less than 1/10th the thickness of 'thin' films and make use of the world's smallest functional solar cells, shown to successfully produce electricity in a published peer-reviewed study in the Journal of Renewable and Sustainable Energy of the American Institute of Physics.
Through established relationships with universities, research institutions, and commercial partners, we strive to identify technologies and business opportunities on the leading edge of renewable energy innovation. Unique to our business model is the use of established research infrastructure owned by the various institutions we deal with, saving us significant capital which would otherwise be required for such costs as land and building acquisition, equipment and capital equipment purchases, and other start up expenses. As a result, we are able to benefit from leading edge research while employing significantly less capital than conventional organizations.
For additional information, please visit: www.newenergytechnologiesinc.com.
Featured Product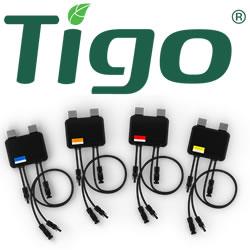 Tigo will announce the new product launch of the patented UHD-Core TS4-A (Advanced Retrofit/Add-on) Platform at SPI 2019. The new TS4-A-M (Monitoring) & TS4-A-S (Safety) units have improved lightweight hardware and lower labor costs to address a range of functions and budgets. The TS4-A-M allows module-level monitoring via Tigo's SMART Website & App. The TS4-A-S is UL-certified as a rapid shutdown solution for residential and C&I PV system. Both units join the Tigo's multivendor solution that works with almost any inverter and smart module in the global PV market. Contact sales@tigoenergy.com for pricing, shipping, and availability in Q4'19.