Hydro Aluminum Provides Support Structures for Largest CPV Solar Plant in Latin America
LINTHICUM, Md. — March 20, 2012 — A precision-extruded aluminum framing system manufactured by Hydro has been installed at a 500-kilowatt electric generation facility in Durango, Mexico, the largest concentrated photovoltaic (CPV) solar facility in Latin America. Located about 550 miles north of Mexico City, the Durango site is already designated to expand to 10 megawatts total capacity in the near future.

The solar plant comprises 184 Skyline Solar X14 arrays. It uses parabolic mirrors to concentrate sunlight onto crystalline silicon PV cells. These arrays are mounted on extruded aluminum space-frames that raise them off the ground and allow them to track the sun through its daily east-west arc. Extruded aluminum was chosen for the frame structures because it provides efficient material utilization, low capital costs and short development times. Aluminum is corrosion-resistant and provides high stiffness to resist wind, improving this system's accuracy and robustness.
"Our solar engineering specialists worked with Skyline's team to review their design and were able to help optimize the frame design and identify cost saving opportunities using Hydro's extensive library of alloys and extrusion expertise," said Allan Bennett, vice president of solar market development for Hydro's Extrusion North America unit. "Together, the engineering teams were able to remove 40 percent of the structural material used in early frame prototypes. That reduced Skyline's costs for raw materials, manufacturing and shipping."
In sunny climates, CPV is the lowest cost solar technology for medium (less than 20 MW) and large-scale electricity generating facilities. Today, these constitute the fastest growing portion of the solar market.
About Skyline Solar
Skyline Solar manufactures integrated concentrated photovoltaic systems, incorporating industry-proven silicon cells, durable mirrors and single-axis tracking. The company was founded in 2007 and is funded by NEA and other investors. It has been awarded contracts by the U.S. Department of Energy and Department of Defense. Skyline Solar has 11 patents to date on its CPV architecture. For more information, visit www.skyline-solar.com.
About Hydro
Extrusion North America is a unit of Norsk Hydro, a global supplier of aluminum and aluminum products. Based in Norway, the company employs 23,000 people in 40 countries and has activities on all continents. Rooted in a century of experience in renewable energy production, technology development and progressive partnerships, Hydro is committed to strengthening the viability of the customers and communities we serve.
In North America, Hydro is a leading provider of extruded aluminum solutions including supply sourcing, extrusion, finishing, and fabrication of components, as well as contract manufacturing services, for a variety of industries. For more information, please visit www.hydro.com/northamerica.
Featured Product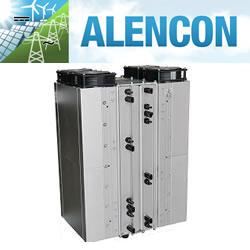 Alencon Systems is the premier manufacturer of high power, high voltage DC:DC optimizers for alternative energy applications including solar, battery energy storage, Microgrids, Fuel Cells and Electric Vehicle charging. Alencon's DC:DC converter offerings include the SPOT, BOSS and CUBE series DC:DC converters. The SPOT is a modular, uni-directional DC:DC solution ideal for solar applications. The BOSS is a modular, bi-directional unit for use with battery energy storage. The CUBE is a monolithic DC:DC converter which is available in both uni-directional and bi-directional modalities. Pictured above, is the Alencon SPOT.