The shares will be sold at a price to the public of $1.15 per share
LATHAM, N.Y., March 23, 2012 -- Plug Power Inc. (NASDAQ: PLUG), a leader in providing clean, reliable energy solutions, today announced that it has priced an underwritten public offering of 13,000,000 shares of its common stock. The shares will be sold at a price to the public of $1.15 per share for gross proceeds of approximately $15.0 million.

Roth Capital Partners is acting as the sole manager for the offering.
Net proceeds, after underwriting discounts and commissions and other estimated fees and expenses payable by Plug Power, will be approximately $13.6 million.
Plug Power intends to use the net proceeds of the offering for general corporate purposes, which may include working capital, capital expenditures, research and development expenditures, commercial expenditures, acquisitions of new technologies or businesses that are complementary to its current technologies or business focus, and investments. In connection with the offering, Plug Power has granted the underwriter a 45-day option to purchase up to an additional 1,950,000 shares of common stock to cover over-allotments, if any. The offering is expected to close on or about March 28, 2012, subject to satisfaction of customary closing conditions.
The securities described above are being offered by Plug Power Inc. pursuant to a shelf registration statement on Form S-3 including a base prospectus, previously filed and declared effective by the Securities and Exchange Commission (SEC). The securities may be offered only by means of a prospectus. A preliminary prospectus supplement related to the offering was filed with the SEC on March 23, 2012 and a final prospectus supplement related to the offering will be filed with the SEC and will be available on the SEC's website located at www.sec.gov. Electronic copies of the final prospectus supplement, when available, also may be obtained from Roth Capital Partners, LLC, Equity Capital Markets, 888 San Clemente Drive, Newport Beach, CA 92660, at 800-678-9147 and Rothecm@roth.com.
This press release shall not constitute an offer to sell or the solicitation of an offer to buy these securities, nor shall there be any sale of these securities in any jurisdiction in which such offer, solicitation or sale would be unlawful prior to the registration or qualification under the securities laws of any such jurisdiction.
About Plug Power Inc.
The architects of modern fuel cell technology, Plug Power revolutionized the industry with cost-effective power solutions that increase productivity, lower operating costs and reduce carbon footprints. Long-standing relationships with industry leaders forged the path for Plug Power's key accounts, including Walmart, Sysco and Coca-Cola. With more than 2,000 GenDrive units shipped to material handling customers, accumulating over 5.5 million hours of runtime, Plug Power manufactures tomorrow's incumbent power solutions today. Additional information about Plug Power is available at www.plugpower.com.
Featured Product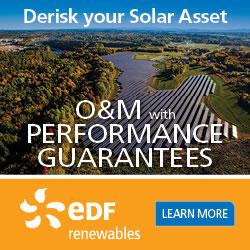 EDF Renewables offers the same innovative solutions that maximize the performance of our own 5.2 GW of installed projects. Because we're not an equipment manufacturer, our recommendations are transparent and data-driven. We cover the entire project lifecycle: from pre-commissioning support, through warranty and post warranty operation, to late stage and decommissioning.