LAS VEGAS, NV - April 2, 2012 (Investorideas.com renewable energy newswire) Salamon Group, Inc. (OTCQB: SLMU) announces today that its Sunlogics Power Fund has appointed Mr. Jay Bingle to the position of President.
LAS VEGAS, NV - April 2, 2012 (Investorideas.com renewable energy newswire) Salamon Group, Inc. (OTCQB: SLMU) announces today that its Sunlogics Power Fund has appointed Mr. Jay Bingle to the position of President.

Join Investor Ideas Members to access the Renewable Energy stocks directory, water stocks, biotech stocks, defense stocks directories and the Insiders Corner
For over 30 years, Mr. Bingle has served as an executive responsible for corporate development, strategy and business planning for such companies as Time, Inc., where he served as vice president for administration and special initiatives. He served at Paine Webber as executive vice president of administration and strategy. Also, he was responsible for corporate development at The Turner Company and International Paper Co. Mr. Bingle served as Chairman and CEO of Wunderman, Inc., a unit of Young & Rubicam Inc., one of the world's leading advertising agencies where Mr. Bingle directed more than 5,000 employees in over 80 offices in 50 countries. Mr. Bingle has also served as an advisor to and director of numerous companies and venture capital firms, including NEC, Longworth Ventures, NSI, Dentsu, m-Qube Inc., Trident Capital, NewSight Corp, Wired Assets Inc, and Viryd Technologies.
"Mr. Bingle brings with him a wealth of experience as a senior executive in large multi-national companies where he managed thousands of employees in multiple continents and we are very excited to be adding him to the position of President," said Mr. Matvieshen, CEO. He further adds, "With the global nature of our business model Mr. Bingle's ability to manage large amounts of personnel in a multi-jurisdictional environment was a key factor in our decision to bring him on; as well, Mr Bingle's extensive experience in financing and fund raising including his experience as a consultant and advisor for multiple investment funds was an equally important factor as we continue to grow our revenue generating solar asset base."
About Salamon Group
Salamon Group, Inc. and its Sunlogics Power Fund Management, Inc. division, is a solar and renewable energy company specializing in the acquisition, construction and management of renewable energy power projects and companies. It is a project-acquiring partner of Sunlogics Plc and its subsidiary as well as other third party project developers. The Company also takes positions in other solar and renewable energy project producing companies that are a strategic fit within the Company's overall strategy.
For further information, Orsay Groupe, Inc. 305-515-8077 and/or visit: http://www.sunlogicspowerfund.com/ www.sunlogics.com
SLMU cautions that statements made in press releases constitute forward-looking statements, and makes no guarantees of future performances and actual results/developments may differ materially from projections in forward-looking statements. Forward-looking statements are based on estimates and opinions of management at the time statements are made.
Contact:
Orsay Groupe, Inc.
William J. Nalley
305-515-8077
williamjnalley@yahoo.com
Published on Investorideas.com newswire
Follow Investorideas.com on Twitter http://twitter.com/#!/Investorideas
Follow Investorideas.com on Facebook http://www.facebook.com/Investorideas
Disclaimer: Our sites do not make recommendations. Nothing on our sites should be construed as an offer or solicitation to buy or sell products or securities. We attempt to research thoroughly, but we offer no guarantees as to the accuracy of information presented. All Information relating to featured companies is sourced from public documents and/ or the company and is not the opinion of our web sites. This site is currently compensated by featured companies, news submissions and online advertising. www.InvestorIdeas.com/About/Disclaimer.asp. Disclosure: SLMU is a paid customer on Investorideas,com , publishing press releases and company content on Investorideas.com and our syndicated blogs and global partners effective March 14 ,2012 (three months: one thousand per month and nine thousand equivalent in 144 shares)
BC Residents and Investor Disclaimer : Effective September 15 2008 - all BC investors should review all OTC and Pink sheet listed companies for adherence in new disclosure filings and filing appropriate documents with Sedar. Read for more info: http://www.bcsc.bc.ca/release.aspx?id=6894
Featured Product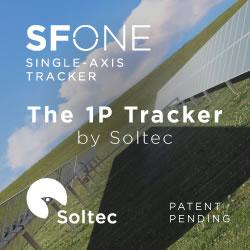 Soltec manufactures and supplies solar trackers designed and proven for extreme climate conditions, which is an ideal solution for any region's environment. Soltec's trackers are self-powered, requiring no additional PV module or grid-powered connection. Bifacial modules collect energy on both the front and rear sides, capturing reflected irradiance from the ground surface under and around the tracker and from other modules. Depending on site conditions, bifacial yield-gain can reach +30 percent.