To simplify regulations surrounding the marketing of products, the EU's New Legislative Framework (NLF) was enacted in 2008 as part of a 'Goods Package' to counter claims the existing legislation is difficult to apply.
To simplify regulations surrounding the marketing of products, the EU's New Legislative Framework (NLF) was enacted in 2008 as part of a 'Goods Package' to counter claims the existing legislation is difficult to apply. With the objective of strengthening and completing the existing rules, it is intended to improve their practical application and enforcement by establishing a common legal framework. Two instruments determine the framework: Regulation (EC) No. 765/2008 dealing with accreditation and market surveillance and Directive No. 768/2008/EC defining the common framework for the marketing of products.

The scope of the New Legislative Framework (NLF) is very wide and it demands realignment of a large number of existing regulations that apply across a number of industries. At the end of 2011, nine directives were recast to align them with the NLF and these affect electrical and electronics products as well as other consumer industries.
Notable examples of those revised include the Low Voltage Directive 2006/95/EEC, the Electromagnetic Compatibility Directive 2004/108/EC, the Simple Pressure Vessels Council Directive 2009/105/EC, the Measuring Instruments Directive 2004/22/EC and the Non-automatic Weighing Instruments Directive 2009/23/EC.
With the goal of harmonizing the EU market conditions for consumer and industrial products, and to enhance market surveillance, the revisions set out common provisions for EU product legislation and touch on the definitions, obligations of economic operators, notified bodies and details of safeguard mechanisms.
One example of this initiative clarifies the rules for CE marks. The aim is to elevate the credibility of the scheme and ensure all products displaying a CE mark are able to freely circulate in the European Economic Area (EEA). To obtain a CE mark a manufacturer must have a safety and conformity assessment, write an EC Declaration of Conformity and keep technical documentation as evidence of compliance to the directive to present to the surveillance authority. Obligations are also imposed on importers to ensure a manufacturer has obtained compliance, maintains all the required documentation and its products are marked correctly.
Setting out the general rules and principles for a notified body, accreditation and market surveillance in Member States, Regulation (EC) No765/2008 (http://eur-lex.europa.eu/LexUriServ/LexUriServ.do?uri=OJ:L:2008:218:0030:0047:en:PDF) on accreditation and market surveillance complements and strengthens the existing regulations and their enforcement.
A single accreditation body must be assigned by each Member State to carry out assessment of requests for notified body status and to inform the European Commission of the bodies granted notified status and what they are notified to certify. The purpose is to achieve consistency among accreditation services in the EU and to establish rules for national accreditation bodies, and enable their implementation to be monitored by the governments of Member States. Recognized as coordinating organization for the pan-European accreditation infrastructure, all national accreditation bodies are obliged to be members of the European Co-operation for Accreditation (EA) for evaluation purposes.
Suitable for use as a toolbox for market surveillance, the common legal framework offers customs officers a common set of tools to check the safety of products.
The revised regulations should lead to more uniform trading conditions and these will benefit all producers, importers and distributors. Most importantly end consumers will also benefit from the enhanced protection they afford against non-compliant products.
All the provisions of Directive No. 768/2008/EC (http://eur-lex.europa.eu/LexUriServ/LexUriServ.do?uri=OJ:L:2008:218:0082:0128:en:PDF) are incorporated into the proposed recast directives and where applicable references to Regulation (EC) 765/2008 are also included.
About SGS Electrical & Electronics Services
SGS, as the world's leader in third party testing, has established procedures to cover a wide variety of legal requirements related to your products. The global footprint of SGS ensures they can provide solutions wherever you are located. The SGS global team of product safety experts and their network of consumer electronics (http://www.sgs.com/en/Consumer-Goods-Retail/Electrical-and-Electronics.aspx) labs will support you with all the knowledge and testing required, ensuring your products fulfill all locally applicable market requirements.
Please do not hesitate to contact the SGS experts for further information.
SGS Consumer Testing Services
Silke Hilmer
Global Marketing Manager
E&E Consumers & Technology
Am Rödingsmarkt 16
20459 Hamburg
t: +49 (0)40 30101 826
Email: cts.media@sgs.com
Website: http://www.sgs.com/pages/consumer-testing/sgs-consumer-goods-and-retail.aspx
SGS is the world's leading inspection, verification, testing and certification company. SGS is recognized as the global benchmark for quality and integrity. With 70'000 employees, SGS operates a network of over 1'350 offices and laboratories around the world.
Featured Product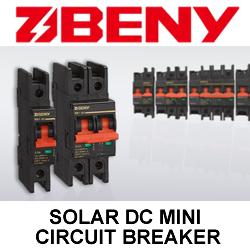 The BB1-63 modular miniature circuit-breakers can be used in solar DC circuits up to 1200 VDC (4-poles execution). Application in solar DC circuits, battery energy storage systems and UPS. Arc flash barrier design keeps solar equipment more safe and reliable. For DC circuit over-current protection.