PSC Flooded with Comments on Focus
More than 200 individuals and businesses submitted comments decrying the long delay in restarting the renewable energy programs of Focus on Energy, a nationally recognized program that reduces the cost of solar, wind, and biomass installations for Wisconsin utility customers.

Focus on Energy suspended its support for customer-sited renewable energy systems for businesses last July, when rising demand for renewables outstripped available funds, according to Shaw Environmental, the program administrator. When it announced the funding suspension last June, Shaw told installers that incentives would resume before the end of 2011. In January 2012, funding for residential renewable energy systems ended.
"It is now the spring of 2012, and neither Shaw nor the Public Service Commission (PSC), which oversees Focus, have said a peep about when they will again offer incentives, as required by law," said Don Wichert, executive director of RENEW Wisconsin, a nonprofit advocacy organization that represents businesses, organizations, and individuals who want more clean renewable energy produced in Wisconsin.
"The protracted delay in resuming incentives speaks to Shaw's lack of experience in managing a renewable energy program. While Shaw struggles to 'learn on the job', dozens of contractors and small businesses are experiencing financial hardship as installation activity grinds to a halt," added Michael Vickerman, director of policy and programs for RENEW.
"A separate contractor should administer the renewable energy program. Under the current arrangement, renewables and energy efficiency are lumped together under one administrator and are forced to compete against each other for the same pot of funding," said Vickerman.
"The number of comments shows the huge amount of frustration over lost business and jobs for installers, as well as citizens who support and want to install renewable energy systems," Wichert said.
James Kerbel, owner of Photovoltaic Systems LLC in Amherst, wrote: "I have seven employees on layoff and some are still collecting unemployment. I also have 20-plus bids out to customers who want to move ahead with a solar electric system, but will not move until they see the new Focus on Energy incentives."
"My employees can't wait forever for work," Kerbel said. "I need an answer very soon or I will lose all these trained employees. They need to work, not have their lives in turmoil like this. I need an answer as soon as possible, please."
State Senator Dale Schultz (R-Richland Center) posted a comment. "To benefit and not damage efforts to grow local jobs and the Wisconsin economy, the Public Service Commission of Wisconsin should direct Shaw Environmental, the state-contracted administrator of the Focus on Energy program, to immediately restore a comprehensive and robust incentive program for renewable energy system installations," Schultz wrote.
"I would very much LIKE to put up a Solar PV system. And will if you can get the FOE incentives program going again!!" commented Martha Christensen of Madison.
All public comments can be accessed by clicking on Documents at http://psc.wi.gov/apps40/dockets/content/detail.aspx?dockt_id=5-GF-191 .
RENEW Wisconsin is an independent, nonprofit 501(c)(3) organization that organizes and represents businesses, and individuals who want more clean renewable energy produced in Wisconsin. More information on RENEW's Web site at www.renewwisconsin.org.
Featured Product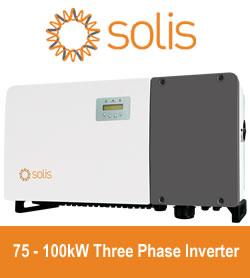 Solis75kW - 100kW series high-power string inverters are widely used in industrial and commercial rooftops. Solis's new three-phase string inverter is the first choice for industrial and commercial photovoltaics. 75-100kW three phase series string inverter have Maximum 28 strings input, support "Y" type connection in DC side. Maximum string input current 13A, support bifacial modules access.Supports anti-PID function to improve system efficiency.