8-hour course teaches important PV-safety and connectivity issues for inspectors, electricians, engineers
Dublin (Georgia), April 3, 2012.óMAGE SOLAR ACADEMY, part of the globally operating MAGE GROUP, announced that the inaugural class of the new "PV Field Inspector 302"-course is slated to start Saturday, April 14.

The intense one-day course was designed to provide students with PV-system and installation fundamentals as well as a clear understanding of system design and safety requirements. Students will also become familiar with code compliance and be able to identify most common installation mistakes in order to perform a thorough field inspection. Not only inspectors, but also engineers, electricians, and integrators themselves will be able to optimize and further fine-tune PV-system designs and best practices in order to ensure a speedy inspection process and reduce installation time and costs.
"At MAGE SOLAR ACADEMY we are very conscientious to cater to the training needs across the entire spectrum of solar PV," President of MAGE SOLAR ACADEMY Joe Thomas comments. "It is essential that everybody involved receives premiere education and hands-on practice to ensure high-quality, top-performing PV-systems. Our prime focus is that anybody, from installers to inspectors, contributes to the development of a safe and thriving PV industry."
With a 109% increase in installations last year compared to 2010, a sound understanding of PV-safety and code compliance is becoming a crucial element for inspectors and anybody involved in the inspection and permitting process. Not only installation owners, but also financiers and lenders as well as utilities and municipalities need to be able to rely on a comprehensive professional inspection process.
Besides code compliance and system design basics, the course also covers wiring and grounding aspects, equipment ratings, and evaluating site conditions and system efficiency. At the end of the course, students will be able to conduct system inspections in the field aided by an IREC-developed checklist. Other class dates are May 19, June 18, September 17, and November 26.
Registration for the course is now open. Interested students should download application materials at: MAGE SOLAR ACADEMY, email msa@magesolaracademy.com or call +1 (877) 311-6243 for more information.
MAGE SOLAR ACADEMY
MAGE SOLAR ACADEMY, located at the American corporate campus of MAGE SOLAR in Dublin, Georgia, is a premier educational arena for professionals of all levels and occupations in the expanding PV-market. A subsidiary of the international MAGE SOLAR GROUP, the academy boasts over 10,000 sqf of state-of-the-art educational technology, indoor/ outdoor training and simulation areas.
www.magesolaracademy.com
MAGE SOLAR – The Sun on Your Side
MAGE SOLAR USA, headquartered in Dublin, Georgia, specializes in complete solar systems and provides high-quality photovoltaic modules, intelligent mounting systems and high-performance brand inverters. As a subsidiary of the international MAGE GROUP, it uses the Group's 40 years of know-how to develop optimally coordinated system solutions. A competent partner network guarantees profitable solar energy systems for customers throughout the Americas and in fourteen more countries in Europe, Asia, Africa, and Australia.
www.magesolar.com
www.facebook.com/magesolar
www.twitter.com/mage_solar
Featured Product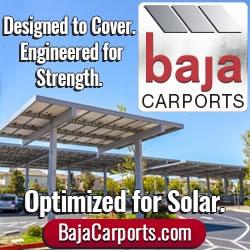 Baja Carports offers an extensive solar support system product line customized to customers' site specifications by in-house engineers, meeting their parking lot coverage, plus optimal PV production needs. Baja's Full Cantilever Tee is often paired with its Semi and Full Cantilever carports to meet live/loads up to 60psf and wind speeds to 160mph. All Baja products are pre-fabricated, bolted connections, pre-galvanized structural steel for fast on-site installation and project aesthetic requirements."