REGEN provides industry-leading solutions for demand management and demand response using a patented approach that is affordable, easy to use, and maintains occupant comfort. Today REGEN works with a network of distribution partners to deliver their EnviroGrid™ technology across North America.
REGEN Energy™ proudly announces the release of its latest set of enhancements to the patented Swarm Energy Management™ platform, now featuring LiveHive™. The LiveHive feature allows REGEN's electric load controllers to sense live changing conditions and automatically adjust their own setting in response to these changes, thereby optimizing the swarm's peak reduction savings across warm or cool days. The LiveHive feature is capable of instinctively compensating for loads with significant changes in behavior, such as an HVAC unit governing a large indoor space that has to work more aggressively when a large number of people arrive. LiveHive functionality will add a further 5-10% of peak reduction savings to our customers' bottom line, all without any additional work or changes in daily function on the part of the facilities manager or the building tenants. "That's the beauty of Swarm Energy Management – it regulates itself, automatically optimizing energy and comfort while allowing building owners and managers to focus on core business" said Tim Angus, CEO.

A further benefit of the LiveHive feature is that it allows very fine-grained, predictable load curtailment for Demand Response, whereby customers can "dial down" the duty cycles of various loads by increments even as small as five percent. Although this feature certainly makes participation in demand response programs easier, it also means that demand response events can now extend to loads that were previously deemed impossible to curtail. The end result for customers is more kilowatts shed and a higher payout from the utility. "Our goal is to continually find ways to improve our customers' benefits by expanding our swarm logic intellectual property, which can be licensed and embedded on OEM platforms. Providing customers with a simple and efficient way to accurately set their load shed goals is a great way to enhance their participation in DR programs," said Roman Kulyk, CTO.
This news arrives close on the heels of REGEN's latest product development: its OpenADR solution, announced last September. In March alone, REGEN has signed agreements with customers in California to add over 70 OpenADR enabled sites to the Swarm Energy Management network. REGEN's OpenADR feature means that customers without an energy management system (EMS) could benefit from the utility incentives offered for participating in OpenADR programs – a previously unattainable goal for a facility without an expensive, customized building automation system or similar arrangement in place. Now those customers can enjoy the additional value that comes from LiveHive's brilliant adaptive duty cycling.
Featured Product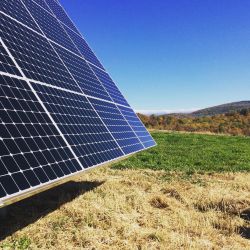 Designed and manufactured in the U.S., the AllEarth Solar Tracker is a complete grid-tied, dual-axis solar electric system that produces up to 45% more electricity than fixed systems. The tracker uses GPS and wireless technology to follow the sun throughout the day for optimal energy production. It has an industry-leading 10 year warranty and 120 mph wind rating, superior snow shedding, and automatic high wind protection. Its simple, durable design and complete system pallet simplifies costly procurement and installation time. Contact us about becoming a dealer partner or purchasing an AllEarth Solar Tracker.