N&N Agriculture Pte Ltd, one of Asia's advanced, high-tech egg farms, purchased the C1000
CHATSWORTH, Calif., April 4, 2012 -- Capstone Turbine

Corporation (www.capstoneturbine.com) (Nasdaq:CPST), the world's leading
clean technology manufacturer of microturbine energy systems, continues to
expand its reach into the Asian-Pacific market with the sale of a Capstone
C1000 unit that will be installed in a combined heat and power (CHP)
application at a progressive farm in Singapore.
N&N Agriculture Pte Ltd, one of Asia's advanced, high-tech egg farms,
purchased the C1000. The power package, which is fueled by biogas generated
from animal waste in an anaerobic digester, will generate reliable,
low-emission electricity and thermal power.
The clean-and-green onsite electricity produced by the C1000 will power the
farm's six large climate controlled layer houses and two grower houses that
span 32 acres (13 hectares) at the Lim Chu Kang Agro-technology Park. The
exhaust heat from the Capstone power package will be used to dry spent grain
used for chicken feed.
Mr. Chin Chew Ma, Director of N&N Agriculture, said: "N&N is making
significant investments to enhance our product range and competitiveness,
including the construction of the feed mill and the egg pasteurizing plant.
Hence, more power will be needed for the farm operation. The C1000, which
will work parallel with the grid, will come in timely to support the
majority of farm's total power needs and reduce our energy costs."
Sobono Energy, Capstone's Asian-Pacific distributor, secured the order and
will supply and commission the C1000 this summer.
"With Singapore's electricity tariff rate standing at more than thirty
Singapore cents (approximately US $0.24) per kilowatt hour, the cost of
power forms a significant part of N&N's operating costs. The farm will
benefit from the more efficient and affordable onsite power to support its
high production level. N&N also decided on the Capstone C1000 because of its
compatibility with biogas, modular design, flexibility, reliability, and low
maintenance," said Wee Khoon Oh, Sobono Energy's Founder and Managing
Director.
"Capstone microturbines are helping to modernize farms worldwide," said Jim
Crouse, Capstone's Executive Vice President of Sales and Marketing.
"Capstone Renewable microturbines are built to efficiently convert waste gas
to electricity and outperform other options. Farms worldwide are using
microturbines to manage waste processing, energy costs, and emissions."
About Capstone Turbine Corporation
Capstone Turbine Corporation (www.capstoneturbine.com) (Nasdaq:CPST) is the
world's leading producer of low-emission microturbine systems, and was the
first to market commercially viable microturbine energy products. Capstone
Turbine has shipped over 6,000 Capstone
MicroTurbine(R) systems to customers worldwide. These award-winning systems
have logged millions of documented runtime operating hours.
Capstone Turbine is a member of the U.S. Environmental Protection Agency's
Combined Heat and Power Partnership, which is committed to improving the
efficiency of the nation's energy infrastructure and reducing emissions of
pollutants and greenhouse gases. A UL-Certified ISO 9001:2008 and ISO
14001:2004 certified company, Capstone is headquartered in the Los Angeles
area with sales and/or service centers in the New York Metro Area, Mexico
City, Nottingham, Shanghai and Singapore.
Featured Product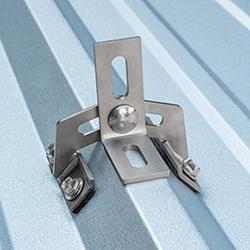 Error-Proof Compression: The QB2 doesn't leave any room for user error when it comes to Microflashing® compression. Once the Dual Drive Shoulder Screw is secured, the Microflashing® is compressed. Only 3 Components: The QB2 is comprised of Microflashing®, an L-foot and a Dual Drive Shoulder Screw. No more Nuts needed to tighten and secure the L-foot! Not only does this simplify the installation process, it also cuts down the installation time.