All-Energy, the UK's largest renewable energy exhibition and conference, opens in Aberdeen in under seven weeks (Wednesday-Thursday 23-24 May 2012).
All-Energy, the UK's largest renewable energy exhibition and conference, opens in Aberdeen in under seven weeks (Wednesday-Thursday 23-24 May 2012) and it is set to be a true milestone event with world-class speakers in the conference, helpful sector trails around the show and important new zoned feature areas, country specialists from 14 nations on hand for one-to-one meetings; and one of The Crown Estate's "UK offshore wind supply chain seminars". Entry to all elements of All-Energy 2012 – exhibition, conference and Giant Networking Evening is free of charge to all with a business/professional interest in renewable/ sustainable energy, energy efficiency and energy management.

"Visitor registrations are coming in thick and fast, and looking down the list of registrants is like looking at a 'Who's Who' of renewables – it's no wonder that the show has been dubbed the AGM of the renewables world," says Event Manager, Jamie Thompson of Reed Exhibitions. "In May 2011 we attracted some 8,000 people from 50+ countries and 580 exhibitors. The surge in renewable energy globally continues apace, and our exhibitors in our major exhibition come from nearly 20 countries this year. Our exhibitor list grows on a daily basis, with its growth keeping in line with our online visitor registrations. We are looking forward to a highly successful show in late May."
All-Energy 2012 introduces some exciting new features as well as tried and tested favourites. There are three new zones within the show, Offshore Maintenance – where offshore wind meets oil and gas; Smart Energy (the All-Energy take on energy efficiency, energy management, micro- and onsite generation); and the Low Carbon Vehicle area powered excitingly by ITM Power's HFuel Here refuelling system. The Offshore Maintenance and Smart Energy zones feature seminar areas as well as clustered exhibitors.
"Is there an organisation anywhere – big or small, public or private, that would not benefit from advice on energy usage, management and generation?" asks Jamie Thompson. "Our Smart Energy Zone will gather together a full complement of experts to help all types of business and organisation determine the route they should be taking both by means of one-to-one meetings and presentations in the Seminar area."
Once again UKTI (UK Trade and Investment) provides an added dimension to All-Energy, with the opportunity for visitors and exhibitors alike to meet with specialists from Brazil, Canada, Chile, China, France, Germany, India, Japan, Mexico, Portugal, Spain, South Korea, Saudi Arabia and the USA.
Eleven sector specific trails are designed to help visitors around the show, and ensure that exhibitors see footfall on their stand from relevant buyers/visitors..
Highly relevant and topical conference
The conference programme is now online at www.all-energy.co.uk. The opening plenary session features input from both Westminster and Holyrood with Energy Minister Charles Hendry MP and Fergus Ewing MSP, Minister for Energy, Enterprise and Tourism speaking, as well as HSE Board Member, David Gartside as a reminder that safety within the rapidly expanding industry is of paramount importance; key players from industry will also take part.
In addition to the plenary session, there are world-class speakers taking part in virtually every session and stream of the conference – The Crown Estate's new Head of Offshore Wind, Huub den Rooijen; Andrew Jamieson, chair of the Offshore Wind Reduction Task Force (and chairman of RenewableUK); biofuel expert Professor Martin Tangney; Graham Cooley of ITM Power; representatives of virtually every wave or tidal device currently being developed; senior representatives of Gamesa Wind UK, Iberdrola, Alstom; EDP Renewables UK, and EDP Inovacao. "It is truly amazing to think of such a line-up all under one roof," says Jamie Thompson.
Conference day-by-day
Following the plenary session the conference breaks into parallel streams with session on Day 1 devoted to offshore wind (three of the ten sessions in all); renewable energy growth in China and the Far East – what this means for UK; microgeneration and onsite renewables – the way forward; a session especially for the farming community; Marine Scotland's take on promoting offshore renewable development in Scotland; the first three wave and tidal sessions (there are seven in all); hydrogen and fuel cells; sustainable transport; power storage; hydropower; carbon capture and storage; the grid; demystifying EMR and other government initiatives; nuclear business opportunities; and islands and 'energy islands'.
Day 2 is just as packed as the first day, with four more wave and tidal sessions; offshore renewables – on the shoulders of giants: building on the experience from the wider energy sector; industry perspectives on financing; frameworks for support; renewables for communities - in two sessions, and also a look at the International Year of the Co-operative and co-operatives and renewables; IPA's 'Changing the power landscape of Scotland'; two sessions devoted to onshore wind; ' two to improving public perception; and two looking at biomass and biofuels. Then there are sessions on Scotland's initiatives; district heating; nanotechnology and its role in power storage; geothermal; and a very busy offshore wind day, with four more sessions and the accolade of a double session for the 'UK offshore wind supply chain seminar' organised by The Crown Estate, Scottish Government, Scottish Enterprise and Highlands and Islands Enterprise.
"We are delighted that The Crown Estate has chosen All-Energy to host this key event in the offshore wind calendar – this is the only Scottish venue; other events in the series are being held in North Wales, Northern Ireland, Birmingham and Newcastle."
Further offshore wind sessions will be held in the Offshore Maintenance area on the exhibition floor (held in association with RenewableUK and AREG); and similarly the exhibition floor seminar area in the Smart Energy Zone – held in association with the Renewable Energy Association - is where energy efficiency, case histories and presentations on every form of microrenewable, and energy management will come under the spotlight.
Supporters and sponsors
All-Energy is held in association with RenewableUK, Scottish Renewables, Aberdeen Renewable Energy Group (AREG) and UK Trade and Investment (UKTI); the Society for Underwater Technology is its learned society patron and it is actively supported by nearly 30 government departments, development agencies, trade associations and professional bodies. Sponsors of this year's show include The Crown Estate, Ernst & Young, Forestry Commission Scotland; renewablescareers.com; and RES.
Further information on all aspects of All-Energy 2012, and free online registrations is as www.all-energy.co.uk and available from ae.helpline@reedexpo.co.uk Tel: +44 (0)20 8271 2179.
Featured Product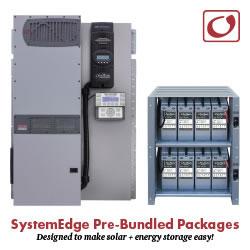 Each pre-bundled package is designed to make solar plus energy storage easy. By combining OutBack's most popular FLEXpower pre-wired systems with matched OutBack energy storage, SystemEdge takes the guesswork out of installing solar plus storage. Every SystemEdge package includes a FLEXpower factory pre-wired system, application-specific EnergyCell batteries and racking, FLEXware ICS Plus combiner and all the necessary connection hardware.