An integral part of the exhibition, internationally renowned experts will be addressing topics such as intelligent energy supply, climate protection and mobility
Hannover, Germany and Princeton, New Jersey – April 10, 2012 - Intelligent automation, energy and IT solutions are at the heart of the Metropolitan Solutions display being staged for the second consecutive year at the upcoming HANNOVER MESSE 2012 from April 23 to 27. From the U.S., Ballard Materials www.ballard.com, the American Wind Energy Association www.awea.org and the State of Connecticut www.ct.gov will be exhibiting, as well as many other U.S. companies that will be located in the energy focused area in Hall 27.

At the Metropolitan Solutions Forum, an integral part of the exhibition, internationally renowned experts will be addressing topics such as intelligent energy supply, climate protection and mobility. Additional emphasis will be placed on approaches to water/wastewater management, urban mining and the safety and security of municipal infrastructures. In addition, flagship projects illustrate that there are already concrete solutions in place today for the problems that cities must address. Companies such as BMW, Deutsche Bahn International, LichtBlick and Schneider Electric are taking part as exhibitors for the first time.
Metropolitan Solutions Forum
The Metropolitan Solutions Forum opens on Monday under the theme "The city in the context of the global climate." EU Commissioner for climate policy Connie Hedegaard addresses green technologies as part of environmentally friendly urban development in her keynote speech. Dr. Volker Kefer, CTO of Deutsche Bahn, discusses Stuttgart 21 and a major project in Qatar from the perspective of an infrastructure operator. Dr. Hans-Jörg Bulliger, President of the Fraunhofer Society, presents his vision of the "Tomorrowcity." The Indian Minister of Urban Development, Kamal Nath, discusses the development of cities in India.
Highlights on other days include the Special Session USA on Tuesday, April 24, at 3pm with a presentation by BigBelly Solar www.bigbellysolar.com CEO Barry Fougere on "Combining smart grid technology & solar power to transform waste & recycling collection" followed by the City of Houston www.houstontx.gov presentation of "Future trends in city development – city concepts for energy efficiency & renewable energy." Wednesday, April 25 themes include mobility and urban development in the international context.
Metropolitan Solutions: flagship projects
The flagship projects in the center of the exhibitor area provide examples of forward-looking solutions from various cities. They include best-practice solutions from individual cities, as well as available technologies for urban centers from exhibiting companies, including
· Building efficiency standards for China (German Energy Agency, dena): dena has been involved in helping improve the energy efficiency of buildings in China since 2006 through support for energy-efficient construction. These projects demonstrate how the energy efficiency of new construction can be increased, and where attention must be given in particular with regard to processes.
· Automated drinking water treatment in Cairo, Egypt (Festo): Automated treatment of drinking water in several waterworks spread throughout the city of Cairo with its 20 million inhabitants saves water, as well as energy.
· Green energy from black water – the Hamburg Water Cycle (Hamburg Wasser): Wastewater is one of the most undervalued city resources. Possible uses in energy (heat and power) and materials (nutrients and water) make it a resource for the cities of tomorrow.
· Lusail City – Integrated city solution (Lusail Real Estate Development Company): The Lusail City development is one of the most technically demanding in the world.
· Efficient drinking water treatment with decentralized systems (Phoenix Contact): Construction, testing and introduction of a decentralized water treatment plant in the Minas Gerais region of Brazil.
· Complete mobility (Siemens): High-performance mobility and logistics solutions for an integrated transport system – to move people and goods economically, rapidly and safely.
· Underground substations (ABB): To strengthen the power grid and cover growing energy needs in a major city in the Middle East, ABB was contracted to build two 66/11 kV substations. The substations must be integrated into the urban environment, and essentially be invisible to the public.
For more information, please contact: Ulli Hammer at (609) 987-1202 x 205 or uhammer@hfusa.com
About HANNOVER MESSE (the Hannover Fair)
The world's leading showcase for industrial technology is staged annually in Hannover, Germany. The next HANNOVER MESSE will be held from 23 to 27 April 2012, with China to be featured as its official Partner Country. Eight flagship fairs are being staged under the umbrella of HANNOVER MESSE 2012: Industrial Automation - Energy - MobiliTec - Digital Factory - Industrial Supply - CoilTechnica - IndustrialGreenTec - Research & Technology. In 2012 the spotlight will be on industrial automation and IT, energy and environmental technologies, industrial subcontracting, manufacturing technologies, services and R&D.
About Hannover Fairs USA
Hannover Fairs USA (HFUSA) provides global fair exhibitors lead generation and product launch support across target buyers and distribution networks worldwide. HFUSA works closely with exhibitors to help them maintain their competitive position on and off the show floor and to connect with a broad range of new market audiences. For more information go to www.hfusa.com
Featured Product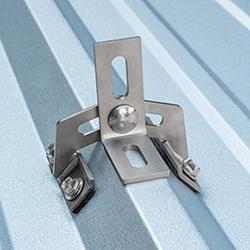 QuickBOLT Low Profile QuickBOLT with Microflashing™ is the industry's affordable, UL Certified Asphalt Shingle mounting system. The Microflashing™ is compressed by the collar on the bolt to create a water-tight seal. With an installation time of less than one minute, the Low Profile QuickBOLT allows installers to complete more jobs.