Registration Opens for Solar Industry Thought Leadership Event
ATLANTA, April 10, 2012 – After three years, thousands of participants and events at Arizona State University, North Carolina State University and the University of California Los Angeles, the Siemens-hosted Solar Exchange takes its unique industry forum and networking event to Rutgers University on May 16, for a day of discovery and dialogue on the latest emerging topics, innovations and trends within the solar industry.

In partnership with Rutgers University , the Northeast Sustainable Energy Association (NESEA), the New Jersey Higher Education Partnership for Sustainability (NJHEPS) and the Mid-Atlantic Solar Energy Industries Association (MSEIA), Solar Exchange East provides an opportunity for dialogue among innovators and thought-leaders in the solar industry, including engineering management, OEMs, end users, developers, solution providers, academia, researchers, associations and financial institutions.
The event, which is geared towards professionals currently working in the solar market, will be held on Rutgers' campus in Piscataway, NJ.
"This event offers a strong and broad agenda that will include presentations on Rutgers' current campus solar projects and our research and academic programs supporting solar initiatives," said Michael J. Pazzani, vice president for research and economic development at Rutgers. "This university has a leadership role in technology development and policy issues connected to solar, so we're pleased to host such an influential meeting."
The event will feature round-table networking sessions, offering attendees the ability to increase their knowledge about products, solutions, services and associates within the solar industry in the Northeast, gather new perspectives and learn new methods. Topics for the event include solar panel manufacturing, energy storage and related technologies, New Jersey SREC programs and policies, smart metering and net monitoring, solar PV projects on university campuses and the bankability of solar projects in the Northeast. The day includes a tour of Rutgers seven-acre Livingston Solar array and an evening reception.
Dr. Ramamoorthy Ramesh, director of the SunShot Initiative and Solar Energy Technologies Program for the Department of Energy will be the keynote speaker.
"NESEA is delighted to partner with Siemens and Rutgers on this event as it dovetails with our mission to connect sustainable energy professionals to each other and to the cutting edge information they need to improve their practice. The timing for this event is perfect, given the growth of solar power in the Northeast," says Jennifer Marrapese, director of NESEA.
The event is free to attend, registration is required. Individuals interested in participating may register at www.usa.siemens.com/solarexchange.
Event host, Siemens, has been committed to the solar industry from as early as the 1950s. Siemens offers horizontally and vertically integrated products for process, line and machine automation, as well as field operations with products and systems such as inverters, tracking control, wireless communication and other automation components. For more information about the Siemens Industry, Inc. solar portfolio, visit www.usa.siemens.com/solartechnologies.
Siemens Industry Sector is the world's leading supplier of innovative and environmentally friendly products, solutions and services for industrial customers. With end-to-end automation technology and industrial software, solid vertical-market expertise, and technology-based services, the sector enhances its customers' productivity, efficiency and flexibility. With a global workforce of more than 100,000 employees, the Industry Sector comprises the Industry Automation, Drive Technologies and Customer Services Divisions as well as the Metals Technologies Business Unit. For more information, visit http://www.usa.siemens.com/industry.
The Siemens Industry Automation Division supports the entire value chain of its industrial customers – from product design to production and services – with an unmatched combination of automation technology, industrial control technology and industrial software. With its software solutions, the division can shorten the time-to-market of new products by up to 50 percent. Industry Automation comprises five Business Units: Industrial Automation Systems, Control Components and Systems Engineering, Sensors and Communications, Siemens PLM Software and Water Technologies. For more information, visit http://www.usa.siemens.com/automation.
Featured Product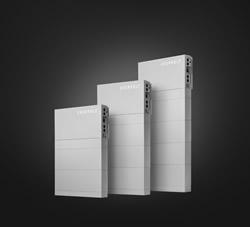 Renewable energy stored in an EVERVOLT home battery system is the perfect backup plan against an uncertain utility grid and weather events. Run key appliances longer and live life when the unexpected happens. EVERVOLT battery storage systems are covered by a complete 12-year warranty from Panasonic.