The facility uses a circulating fluid-bed technology, making it one of the more advanced biomass power facilities in North America
Aiming to meet California's renewable energy requirements, the Imperial Irrigation District Board of Directors today unanimously approved a 10-year power purchase agreement with a local energy producer to secure 45 megawatts of green energy.

At an annual average cost of $35 million, IID will begin delivering electricity generated by the Greenleaf Power biomass facility, located in the district's Riverside County community of Mecca, starting May 1.
The acquisition of this new source of energy enhances and diversifies IID's renewable energy portfolio from 12 to 18 percent, moving the utility closer to reaching its renewable energy goals.
California law requires utilities deliver 20 percent green energy by 2013, 25 percent by 2016 and 33 percent by 2020.
"Our contract with Desert View Power represents our due diligence in not only working to meet California's aggressive green energy goals, but doing so in a way that is cost competitive and supports a proven renewable energy leader in our own backyard," said John Pierre Menvielle, board President.
Located 40 miles south of Palm Springs, Desert View Power is the largest biomass energy producer in California. The facility incorporates state-of-the art technology to generate electricity from clean urban wood waste, forest and agricultural residue.
The facility uses a circulating fluid-bed technology, making it one of the more advanced biomass power facilities in North America.
In 2010, under operator Colmac Energy, the facility was recognized as one of the top six best renewable energy power plants in the nation due to its impressive environmental accomplishments. Built in 1992, the plant produces up to 47 megawatts of green energy and employs 39 people.
In early 2012, IID affirmed its commitment to California's Renewable Portfolio Enforcement Program by resolving to meet the state's compliance targets. In doing so, it also drafted a renewable portfolio standards policy that includes a detailed enforcement program and procurement plan.
Featured Product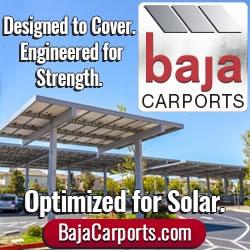 Baja Carports offers an extensive solar support system product line customized to customers' site specifications by in-house engineers, meeting their parking lot coverage, plus optimal PV production needs. Baja's Full Cantilever Tee is often paired with its Semi and Full Cantilever carports to meet live/loads up to 60psf and wind speeds to 160mph. All Baja products are pre-fabricated, bolted connections, pre-galvanized structural steel for fast on-site installation and project aesthetic requirements."