LAS VEGAS, NV - April 13, 2012 (Investorideas.com renewable energy newswire) Salamon Group, Inc. (OTCQB: SLMU) announces that Sunlogics Power, its wholly owned subsidiary (www.sunlogicspowerfund.com), has successfully completed final closing documentation on Eco Energy Solutions Pty Limited (ECO) in
LAS VEGAS, NV - April 13, 2012 (Investorideas.com renewable energy newswire) Salamon Group, Inc. (OTCQB: SLMU) announces that Sunlogics Power, its wholly owned subsidiary (www.sunlogicspowerfund.com), has successfully completed final closing documentation on Eco Energy Solutions Pty Limited (ECO) in exchange for 8 million shares of Salamon Group, Inc. (SGI). The transaction was valued at 8 million dollars.

Join Investor Ideas Members to access the Renewable Energy stocks directory, water stocks, biotech stocks, defense stocks directories and the Insiders Corner
Eco Energy is a successful Australian-based renewable energy company with revenues of approximately 13 million USD and an EBITA of $0.960 million for year ending 2011 and ECO is on track to exceed those numbers this year. This transaction is immediately accretive to Salamon Group. ECO shareholders have agreed to take secured debt against ECO and its assets until the Authorized capital in Salamon Group, Inc. has been increase to allow for the conversion into equity.
At the end of February 2012 Eco Energy had installed 2,630 domestic systems through its contracts which started in May 2010. The contracts cover all of the state of Tasmania and all of central Victoria.
Michael Matvieshen, CEO, Salamon Group, commented, "Eco brings value to our shareholders in several ways which include the experience it has in the southern hemisphere for renewable energy project development. With its vast array of contacts, it opens up a very large and lucrative market for us. Together we expect to have a real and competitive footprint in these rapidly expanding markets."
Additionally, Mr. Gary Yost, the Managing Director of Eco Energy, will assume a seat on the Board of Directors of Sunlogics Power Fund and Salamon Group. Mr. Yost brings industry experience and contacts that have allowed him to create a "one stop shop" methodology to take any project from conception through to design, supply, installation and commissioning. Mr. Yost has overseen the growth of a client base that includes all levels of government, private and public utilities and projects that meet the needs of commercial and individual clients, as well as a number of overseas projects.
Mr. Matvieshen, CEO, Salamon Group, further stated, "It's excellent to be working with Gary as he has built a company from the ground up. He understands the business challenges and will be a valuable member of our 'go to market' team worldwide."
ECO will in turn benefit from SGIs' business synergies, such as accessing the CTIEC relationship and the financing investment banking relationships that are already in place at SGI.
ABOUT ECO ENERGY SOLUTIONS
Eco Energy Solutions specializes in the Design, Supply, Installation, Commissioning and Maintenance of Solar PV, Solar Hot water, Wind Turbine and Micro/Mini Hydro projects. Eco Energy Solutions (Australia) Pty Ltd is a very dynamic Australian business specializing in the Renewable Energy sector. We provide a full Integrated Systems House Solution service to all aspects of the Renewable Energy industry. We are involved in the leading projects in Australia in this sector. http://www.ecoenergysolutions.com.au/
About Salamon Group
Salamon Group, Inc. and its Sunlogics Power Fund Management, Inc. division, is a solar and renewable energy company specializing in the acquisition, construction and management of renewable energy power projects and companies. It is a project-acquiring partner of Sunlogics Plc and its subsidiary as well as other third party project developers. The Company also takes positions in other solar and renewable energy project producing companies that are a strategic fit within the Company's overall strategy.
For further information, Orsay Groupe, Inc. 305-515-8077 and/or visit: http://www.sunlogicspowerfund.com/ www.sunlogics.com
SLMU cautions that statements made in press releases constitute forward-looking statements, and makes no guarantees of future performances and actual results/developments may differ materially from projections in forward-looking statements. Forward-looking statements are based on estimates and opinions of management at the time statements are made.
Contact:
Orsay Groupe, Inc.
William J. Nalley
305-515-8077
williamjnalley@yahoo.com
Published on Investorideas.com newswire
Follow Investorideas.com on Twitter http://twitter.com/#!/Investorideas
Follow Investorideas.com on Facebook http://www.facebook.com/Investorideas
Disclaimer: Our sites do not make recommendations. Nothing on our sites should be construed as an offer or solicitation to buy or sell products or securities. We attempt to research thoroughly, but we offer no guarantees as to the accuracy of information presented. All Information relating to featured companies is sourced from public documents and/ or the company and is not the opinion of our web sites. This site is currently compensated by featured companies, news submissions and online advertising. www.InvestorIdeas.com/About/Disclaimer.asp. Disclosure: SLMU is a paid customer on Investorideas,com , publishing press releases and company content on Investorideas.com and our syndicated blogs and global partners effective March 14 ,2012 (three months: one thousand per month and nine thousand equivalent in 144 shares)
BC Residents and Investor Disclaimer : Effective September 15 2008 - all BC investors should review all OTC and Pink sheet listed companies for adherence in new disclosure filings and filing appropriate documents with Sedar. Read for more info: http://www.bcsc.bc.ca/release.aspx?id=6894
Featured Product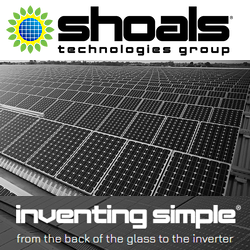 Inventing Simple® isn't just a slogan to us, it's a way of life. Using simple plug-and-play ideology, we revolutionized solar installations in 2003 with our Interconnect System™. Our harnessing system is now the gold standard EPC's use around the world. By using simple ideas, we are making solar energy a more affordable and clean power source for future generations.