Local and internatioal players to discuss the future of Solar in South Africa
The second window of the IPP programme, which closed in March, saw 79 new bidders join the race to develop South Africa's new era of renewable energy projects. Despite an allocation of 1, 275 MW for the round and 2, 300 MW for the entire programme, the Department of Energy received bids totalling some 3, 233 MW of potential power. The winners of this latest round will be announced in May.

"Bidders with good prices and higher economic development have a higher chance of succeeding, subject to having met the qualification criteria," said Energy Minister, Ms Dipuo Peters. As yet it's not known how the allocation will breakdown by technology, though Peters, who will be the key note speaker at Solar South Africa 2012, indicated that the initially proposed allocations may change if some technologies were found to be under or
over-subscribed.
At the next level of the programme, first round bidders from the December window are now approaching the deadline for financial close in June. One of the winners from this round, Soitec, recently announced that it has attracted finance from Investec to begin construction on a 36MW CPV project in Tousrivier in the Western Cape later this year. Other developers have secured finance from the African Development Bank, Absa Bank, Standard Bank and the IFC.
It's a hectic time for everyone in the industry, with plenty of questions still up for discussion, which is what Solar South Africa 2012 is all about.
Hear how successful bidders went about securing finance and completing environmental assessments.
Plus, find out how the Department of Energy are likely to revise the bidding process over the coming years.
To register call: T: 44 20 7099 0600
E: samantha.coleman@greenpowerconferences.com
Register before the 8th May to receive 10% off the registration fee.
This year's event provides a 360 degree view of the South African solar industry, and all the major players will be present, including:
Investors
Kensani Capital Advisory * NextEnergy Capital Sub Solar * ABSA Standard Bank Wise Energy * SolAfrica,
Developers/ EPCs
Momentous Energy * Soitec * Skytron * Likusasa Engineering & Contracting * Solareff Engineering * Scatec Solar South Africa * Aurora Power * BioTherm Energy * Suntrace * Gestamp Solar * Texforce * Mulilo Renewable Energy * Juwi Solar * South African Mainstream Power *Thupela Energy * AEG Power
Policy Makers & Associations
Department of Energy * Eskom * National Energy Regulator of South Africa * SAPVIA * Sustainable Energy Society of Southern Africa (SESSA) * Council for Scientific and Industrial Research (CSIR) * African Renewable Energy Alliance (AREA) * Southern African Alternative Energy Association (SAAEA) * WWF
Environmental Consultancies
SRK Consulting * Savannah Environmental * WSP Environment & Energy South Africa * Environmental Assurance * ISDC Group
Plus many more. See www.greenpowerconferences/solarsouthafrica for more information
Featured Product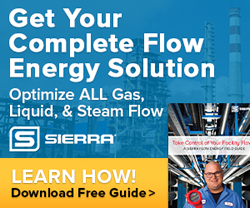 Download Flow Energy Guide - Written by Engineers For Engineers. Learn how to save on energy costs by optimizing your facility flows that impact costs like compressed air, natural gas, steam, and hot or chilled water.