April 16-22 is not just Earth Week, it is also Solar Energy International's spring fundraising campaign week.
Please make a donation today to support the valuable outreach programs of SEI, such as the Native American program, Solar In the Schools, Walt Ratterman and Heather Andrews scholarship funds, and our International Program.

In an effort to highlight the work of one of those programs, specifically the International Program, SEI's Development Associate, Holly Loff, sat down with Carol Weis, SEI's PV Program Coordinator and PV Instructor, to discuss her travels to install solar internationally.
Carol spoke to her international efforts which epitomize SEI's mission. For SEI, Carol helps write PV curriculum and textbook content, and has instructed nationally as well as internationally, teaching workshops in Ecuador, Costa Rica, and Nicaragua for people interested in international development. Carol has also traveled to Haiti multiple times to deliver trainings to local PV trainers, and to Sierra Leone to train healthcare workers on the use of Solar Suitcases with WE CARE Solar.
Holly: Carol, with your years of experience and credentials, you could work for any successful solar business in North America. Why, then, do you choose to work for a non-profit, using your skills in the developing world?
Carol: I have always known that once I had developed my skills enough, I would eventually work in the poorer areas of the world. The work of providing renewable energy for a rural hospital is challenging and keeps me interested. Not only is it a concern to train the installers in safe code compliant methods, but it is equally important to train the on-site technician in how to interface with the system and to troubleshoot problems - additionally the entire staff needs to understand how to live within their energy budget and use the system for the next 20 years.
I have been excited to use my skills at writing curriculum to make appropriate materials that are translated into the local language, and when appropriate, to use graphics with few written words. I feel honored to be in a room full of rural hospital technicians who are responsible for maintaining systems which save lives each day - that alone keeps me inspired.
Holly: What are some of your favorite educational experiences in remote areas of the world?
Carol: I think, in general, it is the personal stories of my students that become my favorite education stories. In many of the areas we go, education is hard to come by and afford, so technicians may have had little if any formal education before starting their work with batteries and inverters.
I have found in both Haiti and Sierra Leone, that the students are very eager to learn, very attentive in class, and very gracious for the opportunity to even be in a class and given tools to continue their work. It is their personal stories and experiences that make the class exciting and vibrant.
On my first trip to Haiti, I saw the limited tools each technician had to work with on-site - no safety gear and shockingly few tools to share among many. Since then, I have made a point to bring battery safety kits and other tools with me to distribute to the technicians after trainings. Oftentimes students in the US are embarrassed to wear safety goggles, but the technicians in Haiti are thrilled to be given the opportunity to own safety gear as it is hard to come by and afford.
SEI's International Program would not be possible without your support! Donate now here: http://www.solarenergy.org/sei-education-fund-support-sei. Be sure to indicate "International Program" in the comments area on the donation payment page.
Featured Product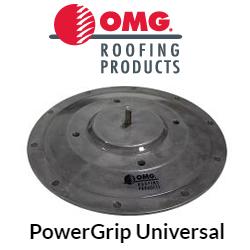 Eliminate Solar Rack Ballast and Reduce Rooftop Material Handling. PowerGrip™ Universal (PGU) is a commercial roof mount system designed to secure solar racks and other equipment to any type of commercial roofing system. PGU provides a secure connection directly to the roof deck or structural members and is designed to reduce or eliminate ballast in solar racking systems, so there's less weight on the roof and less material handling. Made of heavy-duty cast aluminum, PGU units include a base ring which is secured through the roofing cover and into the structural roof deck, and a waterproof top plate.