PV Power Expo to bring 2,200 exhibitors, and covering 200,000 sqm space, the world's largest PV show
By attracting PV giants from five continents, gathering 2,200 exhibitors, and covering 200,000 sqm space, the world's largest PV show---"SNEC 6th (2012) International Photovoltaic Power Generation Conference & Exhibition" [SNEC (2012) PV POWER EXPO] is set to unveil at Shanghai New International Expo Centre, China on May 16, 2012 as scheduled.

Companies and other entities from 90 different countries will hold exhibits that cover the whole industry value chain, including solar panels and modules, equipment and material for producing solar cells, as well as solar power projects and systems.
The expo provides an opportunity for foreign and domestic experts and entrepreneurs to feel the pulse of the world solar power industry and observe changes in the international market firsthand.
The concurrent three-day conference is known as the "Photovoltaic Davos of the East" by industry insiders.
One of the keynote speakers at the event will be Martin Green, the executive research director of the ARC Photovoltaics Center of Excellence at the University of New South Wales, Australia. Green has been called "the father of modern photovoltaics".
Other speakers also include Reinhold Buttgereit, secretary-general of the European Photovoltaic Industry Association; Rhone A. Resch, chairman and CEO of the Solar Industry Association (SEIA); Charles Gay, president of Applied Solar at Applied Materials Inc, chairman of the Applied Solar Council and co-founder of the Foundation of Green Star; and Konaga Yinari, chairman of the Japan Solar Energy Society and professor of the Tokyo Institute of Technology.
Up to now, the organizers have received a total of 100 papers and invited 150 experts to deliver speeches at eight sessions. Other interesting discussions include "Solar Leaders Summit" and "Million Solar Roofs Initiative".
The three main topics of this PV forum are Science and Technology Advancement of Photovoltaic Power Generation, Integration and Application of Photovoltaic Power Generation, and Government Policy Guidance of the PV Industry. These are also the topics mostly discussed by the people outside the industry. Topics of how to get sustainable development, regulate the market, and protect both sides' interests for PV industry will be explored at this conference. At that time, representatives from Asia, European Union, and North America will have an intensive and thorough discussion, and finally agree on one declaration, which may be called "Shanghai Declaration" of Global PV Industry.
It is estimated that there will be about 200,000 visitor attendances to the event, among which there are a great number of officials from government departments of various regions, and related professionals from different fields such as electronic machinery, real estate development, architecture design, and contracting projects.
Anyone who is interested in attending the conference can log onto the official website www.snec.org.cn for registration.
Prospective attendees can also visit the exhibition by registering on-site and submitting two business cards to receive a visitor badge for free.
Visitors can also log onto the SNEC website to make pre-registration and pick up the visitor badge upon arrival to visit the show for free.
The Organizing Committee of SNEC (2012) PV POWER EXPO looks forward to welcoming you! For further details, please visit www.snec.org.cn .
Contact Us:
Mr. Rayman Wu
Tel: 86-21-64276991
Booth Reservation: info@snec.org.cn
Conference Registration: office@snec.org.cn
Hotel Registration: Ms Phoebe Wang wangyiheng@snec.org.cn
Media Registration: Ms Teresa Wen teresa.wen@snec.org.cn
Featured Product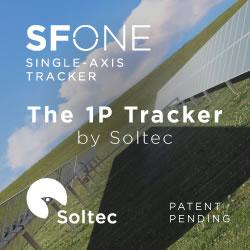 SFOne is the 1P single-axis tracker by Soltec. This tracker combines the mechanical simplicity with the extraordinary expertise of Soltec for more than 18 years. Specially designed for larger 72 an 78 cell modules, this tracker is self-powered thanks to its dedicated module, which results into a lower cost-operational power supply. The SFOne has a 5% less piles than standard competitor, what reduces a 75% the labor time.