Companies Plan to Broaden Access to EV Charging Stations Across More Cities in Florida and Other States
MIAMI BEACH, Fla., ORLANDO, Fla. and TAMPA/ST. PETERSBURG, Fla., April 16,

2012 -- Walgreens (NYSE:WAG) (Nasdaq:WAG) and Car Charging
Group, Inc. (OTCBB:CCGI), a nationwide provider of convenient electric
vehicle (EV) charging services, have expanded EV charging services to 13
Walgreens locations in Orlando and Tampa/St. Petersburg, Fla. Walgreens is
fast becoming a destination site for EV drivers seeking to top off their
battery while shopping or commuting. The deployment of convenient and
accessible EV charging stations in communities along major commuter routes
helps eliminate range anxiety and helps foster the EV revolution.
The two companies plan to broaden their EV charging services with more
locations in major metropolitan cities in Florida as well as in other cities
including Phoenix, Arizona; Akron, Canton and Columbus, Ohio; and Austin,
Texas.
"Environmental sustainability is part of Walgreens commitment to help our
customers live well, stay well and get well," said Walgreens market vice
president Marlin Hutchens. "As more people choose greener, healthier
lifestyles, we are excited to work with Car Charging Group to expand
convenient EV charging options in the Orlando and Tampa/St.
Petersburg areas as well as in several new states and markets to come."
"Walgreens dedication to the EV movement is unmatched by any other major
retailer," said Michael D. Farkas, Chief Executive Officer of Car Charging
Group, Inc. "Walgreens stores are ideal locations for EV drivers to top-off
their batteries while shopping. Walgreens commitment to providing EV
charging services to its customers nationwide is a testament to its support
of environmental sustainability and of electric vehicle use."
Car Charging Group has installed its fast charging stations at multiple
Walgreens locations in Orlando and in the Tampa/St. Petersburg area, further
supporting its ability to provide EV charging services where people live,
work and play. Usage of these EV charging stations continues to grow as more
and more drivers become aware of EV services at Walgreens stores.
Electric vehicles already on the market include the Nissan Leaf, the Chevy
Volt and the BMW ActiveE. EV drivers will soon be able to purchase from a
wider variety of cars including the Ford Focus electric which should start
shipping next month, as well as the Toyota Prius Plug-in Hybrid, the Honda
Fit EV, and the Tesla Model S that are forecasted to be due out in June.
Car Charging Group installs fast EV charging stations, known as Level II,
which provide 240 volts with 32 amps of power, in order to quickly refuel an
electric vehicle's battery. The EV charging stations utilize the standard
SAE J1772(TM) connector widely adopted by nearly all automobile
manufacturers.
Once an EV driver registers and creates a CarCharging account, they will
receive a very small RFID card that attaches to their keychain simplifying
usage and payment of every intelligent CarCharging station.
Users can pinpoint exact station locations using the CarCharging map at
http://www.carcharging.com/. The ChargePoint(R) mobile application also
provides real-time charging station locations with turn-by-turn directions.
In a forthcoming upgrade, drivers will soon be able to reserve a time slot,
guaranteeing them access to the station to recharge their car.
CarCharging's RFID card also allows the driver to use other charging
locations that are on the ChargePoint(R) Network. Should an EV driver not
have or own an RFID card, CarCharging also supports direct payment via
credit card.
Walgreens has a long-standing commitment to reducing energy usage and
expanding its renewable energy initiatives. The company became the nation's
first drugstore chain to install a geothermal energy system at one of its
stores in Oak Park, Ill., in 2010. The company's Mira Mesa, Calif., location
became the first drugstore to receive LEED gold certification by the U.S.
Green Building Council. Walgreens also has more than 130 rooftop solar
installations at stores and distribution centers across the country. In
addition, the company utilizes an energy management system that monitors
electricity, water, heating and cooling and waste management at more than
3,000 stores to help reduce energy usage and maintenance costs while
extending equipment life.
About Car Charging Group, Inc.:
Car Charging Group, Inc. (OTCBB:CCGI), headquartered in Miami, Florida with
offices in Silicon Valley, CA, is the pioneer for nationwide public EV
charging services enabling drivers to refuel anytime, anywhere throughout
North America and ultimately in many high growth global markets. CCGI
provides a comprehensive turn-key electric vehicle charging service to
commercial and residential property owners employing the most advanced
technology, both software and hardware, to build a robust, feature-rich
network attracting businesses and consumers alike. The CCGI business model
is unique and accelerates the adoption of public EV charging services; all
installation, maintenance and related services are paid for by CCGI reducing
the capital costs for a property owner to zero. Our property partners
benefit by sharing in the revenue generated from the EV charging service
while enhancing green initiatives throughout their business operations. CCGI
has more than 30 strategic partnerships from all sectors including
municipalities, shopping malls, parking garages, governments, retail
parking, multi-family residential and commercial properties totaling more
than six million parking spaces with all partner locations expected to have
high numbers of EVs at their locations. CCGI's partners include Ace Parking,
Central Parking, Equity Residential, Icon Parking, Rapid Parking, USA
Parking, Walgreens, The Pennsylvania Department of Environmental Protection,
The City of Miami Beach, The City of West Palm Beach and others. More than
one million plug-in electric vehicles, such as the Nissan LEAF, GM Chevrolet
Volt, Fisker Karma, Tesla Model S, Ford Focus EV as well as many others, are
expected to be on the road in the U.S. by 2015 with estimates calling for
more than 40 million on the road worldwide in 2030. For more information
about Car Charging Group, Inc., please visit www.CarCharging.com.
About Walgreens:
As the nation's largest drugstore chain with fiscal 2011 sales of $72
billion, Walgreens (www.walgreens.com) vision is to become America's first
choice for health and daily living. Each day, Walgreens provides nearly 6
million customers the most convenient, multichannel access to consumer goods
and services and trusted, cost-effective pharmacy, health and wellness
services and advice in communities across America.
Walgreens scope of pharmacy services includes retail, specialty, infusion,
medical facility and mail service, along with respiratory services. These
services improve health outcomes and lower costs for payers including
employers, managed care organizations, health systems, pharmacy benefit
managers and the public sector. The company operates
7,847 drugstores in all 50 states, the District of Columbia and Puerto Rico.
Take Care Health Systems is a Walgreens subsidiary that is the largest and
most comprehensive manager of worksite health and wellness centers and
in-store convenient care clinics, with more than 700 locations throughout
the country.
Featured Product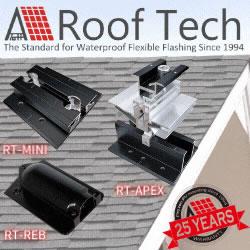 Now Roof Tech brings you the most innovative, watertight mounting systems ever developed for solar photovoltaic systems. Designed and manufactured exclusively for us by Japan's longtime leader in roofing technologies, Roof Tech products are 100% code-compliant and offer fast, simple installation and huge savings on shipping costs due to their compact, rail-less design. Learn more about our full line of versatile PV mounting solutions now available for residential installations. The next generation in rooftop solar mounting solutions."