Alex Salmond MSP, the First Minister of Scotland has joined an impressive line-up for the opening plenary conference session at All-Energy 2012, the UK's largest renewable energy exhibition and conference, being held 23 - 24 May at Aberdeen Exhibition and Conference Centre, Aberdeen, Scotland, UK.
Alex Salmond MSP, the First Minister of Scotland has joined an impressive line-up for the opening plenary conference session at All-Energy 2012, the UK's largest renewable energy exhibition and conference, being held Wednesday 23 – Thursday 24 May at Aberdeen Exhibition and Conference Centre (AECC).

He joins Charles Hendry MP, Minister of State for Energy, DECC; the Lord Provost of the City of Aberdeen (who will have been newly elected just weeks before the show); Keith Anderson, Chief Corporate Officer of ScottishPower and Chief Executive of ScottishPower Renewables, David Gartside, Board Member, Health and Safety Executive; David Blunt, Director Public Policy UK and EU Institutions, Gamesa Wind UK; and Dr Graham Cooley, CEO, ITM Power, in a session chaired by Jeremy Cresswell, Chairman of Aberdeen Renewable Energy Group (AREG) and Editor of The Press & Journal's 'Energy'.
"This opening session of the conference certainly gets All-Energy 2012 off to a flying start," says Event Manager, Jamie Thompson of Reed Exhibitions, organisers of the annual event. "During two days our visitors can attend a world-class conference, spend time in the major exhibition with some 580 exhibiting companies reflecting every source of renewable energy from up to 20 countries; take advantage of our new features, and unrivalled networking opportunities."
The new features include three new zones within the show, Offshore Maintenance – where offshore wind meets oil and gas; Smart Energy (the All-Energy take on energy efficiency, energy management, micro- and onsite generation); and the Low Carbon Vehicle area powered by ITM Power's HFuel Here hydrogen refuelling system, complete with a 'Ride and Drive' circuit (something Hyundai is taking advantage of). Both the Offshore Maintenance and Smart Energy zones feature dedicated seminar areas.
Eleven sector-specific trails are another new feature for the show, designed to help visitors find their way around, and to ensure exhibitors see footfall on their stand from relevant buyers/visitors.
For the first time, All-Energy has been selected as the venue for one of The Crown Estate's UK offshore wind supply chain seminars – the full afternoon session on Thursday 24 May is organised by them with the Scottish Government, Scottish Enterprise and Highlands and Islands Enterprise.
Some features such as the extraordinarily busy exhibition, the seven-stream conference, and the Giant Networking Evening have long been integral parts of All-Energy; and once again, UKTI (UK Trade and Investment) will provide an added dimension to the show, with the opportunity for UK visitors and exhibitors alike to hold one-to-one meetings with specialists and delegates from Brazil, Canada, Chile, China, France, Germany, India, Japan, Mexico, Portugal, Spain, South Korea, Saudi Arabia and the USA.
All elements of All-Energy are free to attend for all with a business/professional interest in renewable and sustainable energy. Registration is open online at www.all-energy.co.uk
Highly relevant and topical conference
The full conference programme is also online at www.all-energy.co.uk and reflects the highly topical and far ranging interests of the various sectors. In addition to the high level plenary session, there are world-class speakers taking part in virtually every session and stream which reflects every renewable energy source and the opportunities and challenges facing the industry. Lunch time on Thursday 24 May sees a special session: when Bert De Colvenaer, Executive Director of the Fuel Cells & Hydrogen Joint Undertaking will speak on "Towards the deployment of fuel cell and hydrogen technology" – other speakers over the two days include The Crown Estate's new Head of Offshore Wind, Huub den Rooijen; Andrew Jamieson, chair of the Offshore Wind Reduction Task Force (and chairman of RenewableUK); biofuel expert Professor Martin Tangney; senior representatives of virtually every wave or tidal device currently being developed; equally senior representatives from the wind industry including Vattenfall, Gamesa, Iberdrola, Alstom, Repsol, REpower, Technip and EDP.
Supporters and sponsors
All-Energy is held in association with RenewableUK, Scottish Renewables, Aberdeen Renewable Energy Group (AREG) and UK Trade and Investment (UKTI); the Society for Underwater Technology is its learned society patron and it is actively supported by nearly 30 government departments, development agencies, trade associations and professional bodies. Sponsors of this year's show include The Crown Estate, Ernst & Young, Forestry Commission Scotland; renewablescareers.com; RES; and Stork Technical Services.
Further information on all aspects of All-Energy 2012, and free online registrations is as www.all-energy.co.uk and available from ae.helpline@reedexpo.co.uk Tel: +44 (0)20 8271 2179.
Featured Product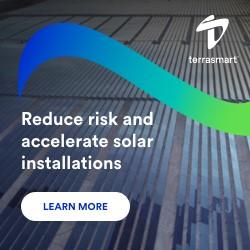 We push the limits in renewable energy, focusing on innovation to drive progress. Pioneering new solutions and ground-breaking technology, and smarter ways of working to make progress for our clients and the industry.