COLLEGE OF THE DESERT PARTNERS WITH INDUSTRY TO ADVANCE WORKFORCE DEVELOPMENT
(Palm Springs, CA) --- It stands on a dusty chunk of land where the sun burns bright and the bramble brush blows.

Undeveloped for years, many discounted the old ranch along Interstate-10 and Gene Autry Trail as a swath capable of tilling only rocks.
Few speculated this would become the spot where College of the Desert (COD) would produce a bumper crop of green job graduates or a solar thermal parabolic trough.
Today, COD's Desert Energy Enterprise Center is viewed as a divining rod for new technology, hands-on curriculum and links with renewable energy industry employers that are paying off in the form of jobs for local residents.
"The desert region is at the center of the rapidly growing renewable energy industry,'' California Energy Commissioner Karen Douglas said. "The College of the Desert has built an excellent utility-scale solar training program from the ground up to ensure that the new solar power plants will have a highly skilled workforce available to meet their needs."
It represents Western-styled trail blazing at its best, said Thomas Flournoy, deputy division chief of California's Employment Development Department.
A solid set of partnerships helped make it happen.
Weeks ago, as Commissioner Douglas dedicated the 120-foot-long parabolic trough that was assembled mostly with donated materials and technical expertise from solar industry providers, she called the work that COD has done to create and sustain a program that gives people the skills they need to fill the green job pipeline impressive.
"What we are finally seeing is not the promise of renewable energy jobs, but the reality,'' she said.
The seed was planted two years ago with a Clean Energy Workforce Training Program grant. Funded by the California Energy Commission and the Employment Development Department, the grant helped pave the way for College of the Desert's Advanced Transportation Technology & Energy Center (ATTE) to address workforce development needs for the solar industry in Southern California.
In 2010, College of the Desert teamed up with First Solar and others to design special curriculum for careers in solar renewable energy to create the pipeline of trained workers to fill the 440-plus jobs created by the Desert Sunlight plant in eastern Riverside County.
The company sent its lead trainer, Robert Bowling, to the Desert Energy Enterprise Center and to COD's community college partner, Palo Verde College in Blythe, to assist with training on First Solar technology.
"Together, we have developed a sustainable and skilled local workforce,'' said Laura Abram, First Solar director of sustainability and community affairs. "Our partnership exemplifies a strong relationship between education and business which is essential to developing a vibrant economy in the Coachella Valley."
For employers like First Solar, the partnership has helped take a time-intensive search for skilled workers out of the equation.
Nathan Rudolph, project manager for First Solar, said the 550 megawatt plant expects to hit peak construction levels this fall with 630 workers. "Many COD graduates are already on the job; as we ramp up, we plan to bring the rest in."
This hiring trend is just the beginning according to Michael Picker, California Gov. Jerry Brown's advisor on renewable energy. Drawing from a recent site visit to Ivanpah Solar Electric Generating Project, Picker said 1,600 people already are working there round-the-clock.
"There is a large queue of projects waiting to go forward," Commissioner Douglas said, noting that 14 out of 137 projects the state permitted between 2010 and 2011 are in operation.
"COD is serving a long-term need, not a short-term need,'' she said. "College of the Desert, and its many partners, are playing a central role to address the state's 33 percent renewable energy portfolio goal."
Larry McLaughlin, director of the ATTE, said the benefits of COD partnership with solar industry companies are many. Students benefit, too.
Training is aligned with the expectations of employers, he said. "Our students have the confidence of knowing the company they go to work for helped design their curriculum to be hired, and to succeed."
The COD utility-scale solar energy program has received support from First Solar, BrightSource Energy, NextEra Energy Resources, Solar Reserve and a wide range of engineering and supply firms.
Companies like Gossamer Space Frames, Hydro Aluminum and Guardian Industries Corp. provided materials and engineering expertise for the parabolic trough.
The Riverside and San Bernardino Building and Construction Trades Council, International Brotherhood of Electrical Workers and the Plumbers, Pipefitters and Refrigeration local aligned the program training with apprenticeship opportunities to be established under the projects' labor agreements.
Today, Desert Energy Enterprise Center – with its solar thermal parabolic trough – is believed to be one of the most comprehensive renewable energy training centers at a community college in the nation.
Clad with mirrors that replicate what's used at NextEra's Genesis project, the unit adds even more depth to the utility-scale solar training, McLaughlin said.
Before, students were trained on solar energy principles, solar photovoltaic, residential and utility scale projects, solar thermal systems and technology-specific field construction. Now, they put an entire Concentrated Solar Power field collection system together in the field.
Environmental experience like that is unique.
"Working under the sun, in the wind and blowing sand, gives our students a distinct advantage,'' said COD president Jerry Patton. "It gives employers a supply of workers who know what to expect the second they step on their site."
It is applied learning at its best, Patton said.
"We've come a long way since we opened in a place that seemed like the middle of nowhere in January 2010. We're working hard, and we've got a lot of sincere partners who are assisting,'' McLaughlin said. "I can't think of another industry that will have as big an impact on the region in the next five or 10 years."
"The partnership's legacy will be its contribution to the region, and their promise to leave the world in better shape than the way they found it,'' Flournoy said.
SIDEBAR:
Gossamer Space Frames president Glenn Reynolds likes to tell the story about the day Larry McLaughlin called to recruit help for a utility-scale solar energy training class at College of the Desert.
"I hung up the phone and said, 'Wow, do we really want to do this?'
The small but mighty Huntington Beach operation had just wrapped up its first major solar thermal parabolic trough project, the 68 megawatt Nevada Solar One facility in Boulder City, Nev.
"We had designed four more just like it in Spain,'' Reynolds said. "We were coming off a 75 megawatt project in Florida, and were about to wrap up our next generation of solar power products. There was plenty on our plate."
But McLaughlin had a sense of urgency. The director of COD's Advanced Transportation Technology & Energy Center told Reynolds he knew Gossamer Space Frames was working on Concentrated Solar Power systems, and he wanted us to do our part to help teach students how to build, run and maintain this type of utility-scale solar energy system.
Dean Hackbarth, a principal and co-founder, and Reynolds agreed to get on board.
From that point on, the project took on Concentrated Solar Power steam.
As Gossamer designed the frame, engineered the pylons and concrete foundation, McLaughlin was plugged into an array of solar industry providers, among them:
* Hydro Aluminum North America of Phoenix, Ariz., which donated parts for the frames.
* Guardian Industries Corp. of Auburn Hills, Mich., which supplied 150 glass mirrors.
* Parker Hannifin, of Cleveland, Ohio, which provided the hydraulic drive that moves the array in the path of the sun.
The rest is solar history, Reynolds said, as he chuckled over that initial moment of hesitation.
He calls COD a pioneer in renewable energy education.
"I've been all over the world, and I've yet to see another education venue that has all the major renewable energies – wind, photovoltaic and CSP -- represented under one roof to train the workforce,'' Reynolds said.
"This is visionary in its approach."
For Hackbarth, the thrill in participating in the project came from seeing students take it all in.
"When they get the frames out into the field, they're transformed,'' he said.
To Robert Vandal, Guardian's vice president of product engineering, the donation offers the solar industry one significant pay-back: Knowing students are being properly trained.
"In this industry, if your system does not work properly from Day 1 and show very well, it can kill a company overnight,'' he said.
For a privately held company like Guardian, which posts $5.5 billion in sales a year, Vandal said installers have to know how to handle the fragile, laminated glass mirrors and align them properly. "If they don't do things properly at the outset the output of the plant will be off,'' he said. "That's our motivation: A workforce that is properly trained to build these plants."
"There are places that have co-op arrangements with the National Renewable Energy Laboratory and major universities that do research, development and testing,'' Reynolds said. "This is different: Academia is keeping pace with renewable energy technologies to supply them with a competent and enlightened workforce. College of the Desert is leading the pack."
STAND-ALONE QUOTES with head shots:
"There are few industries in the desert region that offer the potential for significant job creation. This industry offers the potential for thousands.
"By playing a lead role in workforce development, COD fulfills its mission in economic development. It helps ensure that our residents receive the employment opportunities and, as a result, the full economic benefit of this new industry."
Jerry Patton, president, College of the Desert
"Life's pretty good. There's camaraderie on the site. I'm working at a place with a safety record that's almost unheard of. After two years of being unemployed, my daughters are proud of it. They tell their friends, 'Dad's in green energy."
Steve Sisco, a First Solar employee and COD Desert Energy Enterprise Center graduate
Featured Product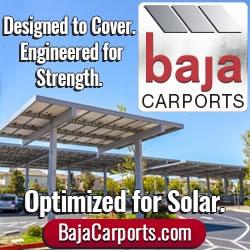 Baja Carports offers an extensive solar support system product line customized to customers' site specifications by in-house engineers, meeting their parking lot coverage, plus optimal PV production needs. Baja's Full Cantilever Tee is often paired with its Semi and Full Cantilever carports to meet live/loads up to 60psf and wind speeds to 160mph. All Baja products are pre-fabricated, bolted connections, pre-galvanized structural steel for fast on-site installation and project aesthetic requirements."