Half-day training workshop focused on Whole Building Solar, Daylighting, Energy & Ventilation Simulation
Boston – April 18, 2012 – Integrated Environmental Solutions (IES), a provider of integrated performance analysis software and consulting services for sustainable building design and operation, today announced its participation at eSim 2012, May 1-4, 2012, Halifax, NS, Canada. eSim brings together professionals, academics and students interested in building performance simulation advancements and applications. The theme of eSim 2012 is focused on modeling and simulation of processes and performance of the built environment – key components of IES' Virtual Environment () software and core messages of the company.

On Tuesday, May 1, IES will host a half-day training workshop for its Virtual Environment software. This exciting training course will target various elements of building performance analysis including solar, daylighting, HVAC, ventilation and total building energy performance. IES' Virtual Environment is ASHRAE Standard 140-2007 certified, EPAct Qualified software and is accepted for LEED Energy, Daylight and Ventilation Credits by the Canadian and U.S. Green Building Councils.

The workshop will provide architects, engineers, sustainability consultants and academia with a detailed collection of analysis capabilities within the IES software, many of which are applicable to various LEED rating systems such as LEED Energy Modeling. There are many IES software 'practices and techniques' which will be demonstrated that are necessary for successful and efficient use of these innovative and sophisticated design tools.

"Our training workshop will focus on whole building simulation, which is the only way to achieve sustainable, energy efficient buildings," said Liam Buckley of IES. "Integrated design and performance analysis are nothing if not incorporated as part of the entire design process. The building tools available, integrates analysis into the earliest stages of the design process to deliver a measurable solution for architects and engineers. We are excited to share this with attendees at eSim this year!"

Following the workshop, attendees will be provided with a training package with various example files and tutorial videos for further study. Attendees will also receive a free three-month trial of all IESVE products. The half-day workshop is eligible for GBCI Continuous Education Hours as well. If you are interested, please contact IES to submit your hours. IES is a certified GBCI-approved education provider. Visit the eSim website to find out more and to register for the workshop.

About IES

Integrated Environmental Solutions' (IES) mission is to advance the sustainability of the world's built environment through the use of integrated performance modelling technology, delivering resource efficient, low-energy, zero-carbon buildings and cities for future generations. For additional information, please visit www.iesve.com. You can also follow us on Twitter and join us on Facebook and LinkedIn for the latest IES news, or read our blog.
Featured Product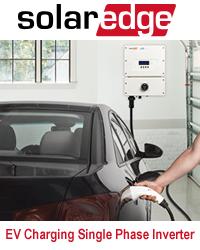 The SolarEdge PV inverter combines sophisticated digital control technology with efficient power conversion architecture to achieve superior solar power harvesting and best-in-class reliability. The fixed-voltage technology ensures the solar inverter is always working at its optimal input voltage over a wider range of string lengths and regardless of environmental conditions. A proprietary data monitoring receiver has been integrated into the inverter and aggregates the power optimizer performance data from each PV module. This data can be transmitted to the web and accessed via the SolarEdge Monitoring Portal for performance analysis, fault detection and troubleshooting of PV systems.