Nation's First Commercial High-Solid Anaerobic Digestion System Provides Power to American River Packaging
SACRAMENTO, Calif.--Clean World Partners today opened the nation's first commercial high-solid organic waste conversion facility at American River Packaging's Sacramento headquarters with an event attended by more than 100 state and local dignitaries, business and community leaders, and investors.

The Clean World Organic Waste Recycling Center is based on anaerobic digestion (AD) technology developed at UC Davis. It converts food waste, agricultural residue and other organic waste into renewable energy, fertilizer and soil enhancements.
Each day the Clean World system installed at American River Packaging (ARP), a regional manufacturer of corrugated packaging products, will convert 7.5 tons of food waste from Campbell Soup and other regional food producers along with .5 tons of unrecyclable corrugated material from ARP into natural gas. The natural gas will be used to generate approximately 1,300 kWh of renewable electricity per day, supplying about 37 percent of ARP's electricity needs.
More than 2,900 tons of waste will be diverted annually from landfills, and 1,000 tons of organic soil amendments will be produced per year for regional agricultural and horticultural applications.
Unlike traditional wet AD technologies, Clean World's digesters can process organic solid waste with up to 50 percent solid content without adding water. With minimal preprocessing and a highly efficient digestion process, Clean World's systems are more efficient and flexible than other existing AD systems. Rapid waste throughput also requires less water for processing, reducing tank size and manufacturing costs, enabling economical AD applications in a wide range of industries and settings.
"Our technology is revolutionary because it enables businesses and communities to tap their own waste streams in their desired environment to generate affordable renewable energy. We expect that it will lead rapidly to more widespread implementation of commercial organic waste conversion solutions," said Michele Wong, Clean World Partners chief executive officer.
Clean World systems are designed to be located at client facilities and easily sized to match a variety of urban, industrial and agricultural needs. The modular systems are built in a factory and can be installed at a permitted site in six weeks to eight weeks.
The Clean World system installed at ARP is the product of an innovative public-private partnership. Support for research and feasibility studies was provided by UC Davis, CalRecycle and the California Energy Commission, with private investment funding the facility's construction and installation.
"Installing the Clean World Partners system at our facility makes sense from an environmental and economical standpoint," said Tom Kandris, CEO of American River Packaging. "We now provide our own plant with clean energy which comes from scrap byproduct that we'd otherwise pay to send to landfills."
The City of Sacramento played a key role in the project's implementation through its project-approval and permitting role.
"This project puts Sacramento at center stage in the development of new, globally significant clean technologies. Businesses and communities around the world are already showing interest in what we've developed here," said Wong.
Also currently under construction is a 100-ton per day Clean World system in south Sacramento expected to open in late spring.
About Clean World Partners
Clean World Partners provides businesses and communities with cost-effective solutions for converting organic waste to renewable energy, soil enhancement products and other valuable byproducts. The company was formed in 2009 and bases its waste recovery systems on a proprietary solution using anaerobic digestion, a technology that converts waste to renewable energy and other valuable byproducts through a biological system with a mix of naturally occurring bacteria. Clean World Partners currently offers scalable, affordable and flexible AD technologies for converting a wide variety of organic waste materials into high-quality biomethane, marketable bio-based products and clean water.
About American River Packaging
With a history reaching back 54 years, ARP is an agile and forward thinking manufacturer of corrugated containers and packaging materials. Servicing Northern California, ARP has manufacturing facilities both in Sacramento and Madera, as well as distribution hubs in South San Francisco and Petaluma. ARP maintains a focus on the future and the benefits of incorporating green technology and practices within its operations. For more info, please visit www.packageone.com.
Featured Product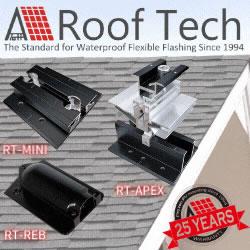 Now Roof Tech brings you the most innovative, watertight mounting systems ever developed for solar photovoltaic systems. Designed and manufactured exclusively for us by Japan's longtime leader in roofing technologies, Roof Tech products are 100% code-compliant and offer fast, simple installation and huge savings on shipping costs due to their compact, rail-less design. Learn more about our full line of versatile PV mounting solutions now available for residential installations. The next generation in rooftop solar mounting solutions."