U.S. Patent Office recognizes the unique attributes of eIQ Energy's DC Parallel System, which maximizes power output, lowers installation costs and simplifies system design
SAN JOSE, Calif., April 24, 2012 – eIQ Energy announced today that the U.S. Patent and Trademark Office has awarded the company a patent for the innovative energy harvesting technology used in its DC Parallel Solar System, which makes solar energy more effective and affordable by allowing solar photovoltaic (PV) panels to be connected in parallel rather than in series.

U.S. patent No. 8,138,631, granted on March 20, 2012, outlines an invention for harvesting maximum power from multiple direct current (DC) energy sources – for instance a solar energy system that includes PV panels with different power outputs. The patent describes a mechanism for connecting solar modules in parallel onto a common DC buss that is set by an inverter, which converts DC into alternating current (AC). This technology allows solar PV systems to use a single inverter in applications where multiple smaller ones might otherwise be necessary. It also provides better reliability because no failure-prone devices (such as electrolytic capacitors) are required.
"This patent demonstrates the disruptive nature of Parallel Solar technology, and particularly the simple elegance of its design, which brings cost savings and flexibility to PV system installations," said Gene Krzywinski, eIQ Energy's chief technology officer. "We're pleased to have the originality and value of our technology recognized, as well as the protection from infringement that this patent affords."
eIQ Energy's newly patented technology reduces system costs by allowing multiple PV panels to be wired in parallel to a common high-voltage DC buss that feeds electrical power into a single inverter. This unique parallel wiring architecture aggregates currents, allowing the same wire to carry more power, and enables far more solar panels to be connected on a single cable than traditional series wiring schemes. It significantly reduces the amount of cabling and other hardware required, as well as installation labor. It also minimizes the effects of shading, soiling, panel mismatch and other issues that can otherwise reduce PV systems' output.
The approved patent application provides a detailed description of an "Advanced Renewable Energy Harvesting" system developed by eIQ Energy and used to enable its DC Parallel Solar System products. Besides combining power from multiple DC energy sources, the system includes DC-to-DC converter modules that boost the PV panels' electrical output to a predictable, constant voltage set by a central inverter. The converter modules include a Maximum Power Point Tracking (MPPT) function that ensures each panel is contributing its full generating potential. In addition, the system includes communication capabilities to transmit panel-level operational data wirelessly or over power lines to a central monitoring system.
About eIQ Energy
eIQ Energy, Inc. uses patented power management technology to make solar energy more effective and affordable. The company's Parallel Solar technology, built around the vBoost DC Parallel System, reduces overall system costs and enables a true parallel architecture, benefiting system designers, installers and operators. eIQ Energy was founded in 2007 with the principal goal of improving the performance and the return on investment for clean energy sources such as photovoltaic systems. Headquartered in San Jose, Calif., eIQ Energy's executive team combines sophisticated knowledge of power supply design, semiconductors and energy management with broad entrepreneurial skills. For more information, please visit www.eiqenergy.com.
Featured Product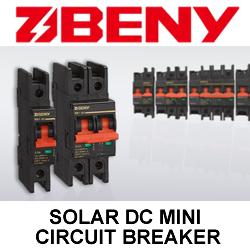 The BB1-63 modular miniature circuit-breakers can be used in solar DC circuits up to 1200 VDC (4-poles execution). Application in solar DC circuits, battery energy storage systems and UPS. Arc flash barrier design keeps solar equipment more safe and reliable. For DC circuit over-current protection.