SCHOTT recently provided solar panels for two rooftop solar arrays installed by Microgrid Energy at the Ford Family Plaza at Busch Stadium
April 16, 2012 (St Louis, MO & Albuquerque, NM) –

SCHOTT Solar PV, Inc. (SCHOTT Solar) recently provided
solar panels for two rooftop solar arrays installed by
Microgrid Energy at the Ford Family Plaza at Busch
Stadium, home of the World Champion St. Louis Cardinals.
The solar energy system will generate enough energy to
power all the team stores in Busch Stadium, approximately
32,000 kWh of clean energy annually. The solar arrays will
be unveiled on "Solar Day" at the April 29th home game and
will be viewable year around from the stands. The solar
panels were manufactured at the SCHOTT Solar facility in
Albuquerque, NM and will be used to generate power solely
for use within the stadium.
"As the St. Louis Cardinals prepare to defend their World
Series title, the organization is taking a unique opportunity to
educate thousands of fans about the reliability and benefits
of clean energy. SCHOTT Solar has over half a century of
experience in solar energy and it's our privilege to supply the
high-quality solar modules that will generate energy for
decades to come at Busch Stadium," said Tom Hecht,
President of SCHOTT Solar PV, Inc.
St. Louis-based Microgrid Energy is the official energy
manager for Busch Stadium and chose SCHOTT Solar to
supply the panels for the solar arrays.
"We were excited to work with the World Champion St. Louis
Cardinals on this project, not only because they are a
cornerstone in St. Louis, but also because the solar
installation has the potential to have such a far-reaching
impact in terms of educating and increasing awareness of
solar energy," said Rick Hunter, CEO, Microgrid Energy.
"Because this project is so important, we were extremely
diligent in selecting the solar modules for Busch Stadium.
SCHOTT Solar is a valuable partner to us not only for the
high quality panels they produce in Albuquerque, but their
proven stability of their products over the life of the system."
Of 30 major league baseball stadiums in the U.S.,
approximately five stadiums have solar power. The
Cardinals will celebrate this new solar energy system in their
stadium with a "Solar Day" at the April 29 home game. Fans
can participate in a variety of activities and learn more about
how clean solar energy is generated and how it benefits the
local community by stopping by the educational kiosk
located in Ford Family Plaza.
About SCHOTT Solar
SCHOTT Solar is an international supplier of high quality solar technology. The company's
corporate headquarters are in Mainz, Germany. SCHOTT Solar is divided into two
businesses. In the business of Photovoltaics, SCHOTT Solar focuses on manufacturing
and marketing premium quality solar modules, and also project business for large
photovoltaic installations. In the business of Concentrated Solar Power, the company
manufactures receivers for parabolic trough solar power plants and ranks as the world's
market and technology leader. Customers, partners and financiers appreciate the products
SCHOTT Solar offers for their high quality and durability. This is a result of the company's
experience since 1958, intensive R&D work and tests that are often considered to be twice
as rigid as the industry standard. With manufacturing facilities in Europe, the United States
and Asia, SCHOTT Solar is able to respond to key markets in a flexible manner. SCHOTT
Solar maintains a local presence in all of the world's major solar markets. The company
greatly benefits from the international network of its parent company, SCHOTT AG. In the
fiscal year 2010/2011, the SCHOTT Group of approximately 17,000 employees generated
global sales of 2.9 billion euros.
Featured Product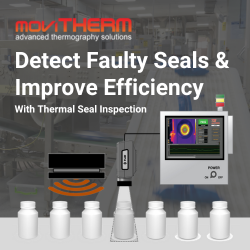 MoviTHERM's Thermal Seal Inspection (TSI) solution provides precise and reliable detection of defects in a variety of packaging types, including pouches, bags, blister packs, bottle caps, and more. By detecting defects in your packages, the TSI solution helps increase efficiency in your production line and ensures top-quality packaging is delivered to your customers every time. With state-of-the-art technology and an experienced team, MoviTHERM is dedicated to delivering accurate inspection solutions and peace of mind to its clients. Contact MoviTHERM today to learn more about their thermal seal inspection solution.