HONOLULU, HI (April 26, 2012) – Panasonic announces that New City Nissan, Hawaii's biggest and number one selling Nissan dealer in Honolulu, Hawai'i, has installed a 305.7-kilowatt Panasonic solar system to generate additional revenue and energy-cost savings for the dealership. The Nissan dealership will be holding a ribbon-cutting event on the new system today, as part of its "Earth Day Event>"

The dealership installation features Panasonic HIT Power® 220-watt panels, with part of the 305.76-kilowatt system being used for Net Energy Metering (109-kilowatts) and the remainder participating in a Feed-In-Tariff system (196-kilowatts), where energy is being sold to the local utility company. Energy being used for cost savings will also be used by the Nissan dealership to power its electric vehicles on the lot, such as the Nissan Leaf.
"There are a lot of solar panel manufacturers out there, but none are as efficient and predictable as Panasonic for output," said John Uekawa, President of New City Nissan. "We can use the energy generated from the sun to offset our typical energy needs, power our electric vehicles and even generate additional revenue for the company."
Noted environmentalist and actor Ed Begley, Jr., a proponent of solar panel systems, is working with Panasonic on a solar panel installation system for his new home in Los Angeles.
"Installing solar panels where money can actually be made from the system is exactly why renewable energy makes so much sense, both for the environment and the wallet," said Begley, Jr. "Panasonic's panels produce more and are the ones to choose when goals are based on actual energy output."
Panasonic Eco Solutions North America will provide
comprehensive renewable energy and energy efficiency
solutions to corporate and public sectororganizations from the planning and engineering stages through implementation, construction and permanent financing, as well as ongoing system maintenance.
About New City Nissan
New City Nissan opened on August 1, 1995 on Ala Moana
Boulevard. New City Nissan is Hawaii's #1 selling Nissan dealership and is the only Hawaii dealer to have won Nissan
North America's Award of Excellence (2006, 2010, 2011), an award given to less than 5% of Nissan dealerships nationwide. In 2010, New City Nissan had the honor of delivering Hawaii's first Nissan Leaf.
About Panasonic Eco Solutions Company
Panasonic Eco Solutions Company is a unit of Panasonic Corporation of North America, the principal North American subsidiary of Panasonic Corporation (NYSE: PC). The company develops and provides customized and integrated technology-based systems solutions for enterprise customers in a variety of industries, such as sports and entertainment, as well as education.
Panasonic is pledged to practice prudent, sustainable use of the earth's natural resources and protect our environment through the company's Eco Ideas Programs. Panasonic was the only Consumer Electronics company to be listed in the top ten brands on the Interbrand Best Global Green Brands 2011 ranking. Follow Panasonic on Twitter @panasonicdirect, and additional company information for media is available at www.panasonic.com/pressroom.
Featured Product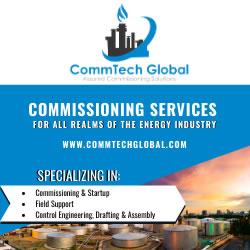 CommTech Global Solutions, LLC, provides professional and reliable commissioning services to customers in all realms of the energy industry. We blend our skills in engineering and technology with innovative business models, offering a complete range of services to assist you for a successful and in compliance operational startup. Consolidation of all our service domains gives our clients a comprehensive set of expertise and far-reaching experience on each project.