Kold Ban International Is Distributing Its Next Generation KAPower® Nickel Carbon Supercapacitors (aka Ultracapacitors) For Engine Starting Applications Or High Pulse-Power Applications.
Kold Ban International (KBi) is excited to announce the introduction of the next generation of our KAPower Nickel Carbon Supercapacitors (aka Ultracapacitors). KAPower's proprietary asymmetrical double layer design utilizes "space-age" technology to meet the engine cranking demands of today's accessory laden engines. KAPower is an alternative or counterpart to lead-acid engine starting batteries or alternative to batteries used in high pulse-power applications.

Regardless of the design, lead-acid batteries use a chemical reaction to store and release energy. As a result, lead-acid batteries experience a deteriorating life. KAPower uses a physical reaction to store and release energy. KAPower Supercapacitors are designed using Nickel and Carbon electrodes, non-conducting separators, and an alkaline electrolyte inside each cell. This asymmetric design allows KAPower to experience a "Faradaic pseudo-capacitive behavior". As a result, KAPower suffers none of the drawbacks associated with lead-acid batteries.
Major benefits and features of KAPower Supercapacitors:
* Eliminate no starts from a "DEAD" battery. Allows an engine to crank regardless of the state of the batteries.
* Can be fully recharged to 100% capacity in as little as 30 seconds.
* Can hold its energy for upwards of 2 years in-between use without needing a charge.
* Cycle life upwards of 1,000,000 cycles and has a 15 – 20 year life.
* Maintenance-free and in most cases outlasts the vehicle it is installed on.
* Contains NO lead and Promotes Green Technology
* Extends the life of existing batteries.
* Virtual unaffected by temperatures and provides reliable cranking down to -40° F.
* Military tested and approved
* Can provide a significant weight reduction. One 120kJ KAPower (62lbs) has approximately the same power as 4 Group 31 lead-acid batteries.
* Consistent cranking for engines ranging from 1 to 32 liters
* Requires no internal cell balancing mechanism as with symmetrical designs.
* May be connected in series or parallel allowing flexible installations.
* 12 or 24 Volt Modules
* Made in the U.S.A.
* Safe and easy to install
KBi is very thrilled about the applications for KAPower. A couple of the principal benefits users will experience after installing KAPower Supercapacitors include: the elimination of the expenses and maintenance associated with lead-acid starting batteries and the elimination of the costs and down time associated with jump-starting.
About Kold Ban International:
Kold Ban International is the leading manufacture of engine starting solutions for a variety of applications. KBi can provide custom engineered and cost effective solutions for applications requiring design assistance. KBi has over 40 years experience providing safe reliable engine starting in markets that include; military, heavy truck, construction, agriculture, generators, mining, transit, and marine.
Featured Product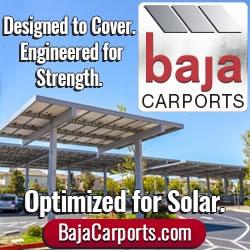 Baja Carports offers an extensive solar support system product line customized to customers' site specifications by in-house engineers, meeting their parking lot coverage, plus optimal PV production needs. Baja's Full Cantilever Tee is often paired with its Semi and Full Cantilever carports to meet live/loads up to 60psf and wind speeds to 160mph. All Baja products are pre-fabricated, bolted connections, pre-galvanized structural steel for fast on-site installation and project aesthetic requirements."