Companies that attain the accreditation will be able to demonstrate systematic quality assurance throughout the sales, installation, and after-sale process
May 1, 2012 - (Clifton Park, NY) The North American Board of Certified Energy Practitioners (NABCEP) proudly announces the launch of its new Company Accreditation Program for residential PV installation companies. The purpose of this program is to provide consumers with a meaningful way to select PV installation companies that have a commitment to clearly show their standards of quality assurance. Companies that attain the accreditation will be able to demonstrate systematic quality assurance throughout the sales, installation, and after-sale process.

The core elements of NABCEP Company Accreditation include: employment of NABCEP certified installation and technical sales personnel, documented and consistent processes, ongoing worker training program(s), and a strong focus on worker safety. Companies seeking accreditation will undergo a thorough and rigorous application procedure that will include independent third-party inspections of previously installed systems.
Don Warfield, Chairperson of NABCEP says, "This program is important for the PV installation industry as it will help consumers find vendors they can trust. This is an important step for NABCEP; it allows the organization to recognize the companies that actively support our mission by employing our certificants. NABCEP holds consumer protection as one of its core values and this is another way we can work with industry to further this goal."
Like all NABCEP programs, the Company Accreditation Program was developed with the close involvement of the PV industry. A group of volunteers, all of whom are either installation business owners or senior managers in residential installation companies, worked with NABCEP staff to create this program. Collectively they represent centuries of experience in the PV installation business. Warfield states, "I'm impressed by the work that the committee has done to ensure that 'all the bases are covered' in this program. As ever, the entire NABCEP Board is grateful for the contributions of our volunteers-it is largely due to their efforts and commitment that NABCEP is so well-respected within the industry."
Jeanine Cotter, one of the committee members and President of Luminalt Solar in San Francisco, California says, "NABCEP is a great organization that is dedicated to protecting consumers and increasing the technical knowledge of people that work with solar in their careers. Company accreditation is an important step in NABCEP's mission to provide a gold standard to consumer protection by establishing substantive criteria of quality assurance for companies to meet."
Another of the committee members, Will Herendon Executive Vice President of construction for American PV of Phoenix, Arizona says, "This program is important to American PV because it will help the entire organization keep focused on a unified trajectory of consistent quality assurance standards."
Marketplace demand drove the creation of this program. Ezra Auerbach, NABCEP's Executive Director says, "We have had numerous requests from companies wanting to know how they could be recognized by NABCEP. I am very pleased to introduce this program, which addresses the demand for a way that companies can distinguish themselves." Allan Sindelar, another Company Accreditation Program committee member and founder and CTO of Positive Energy of Santa Fe, New Mexico echoes those comments by saying, "Individual certifications have been available for nearly ten years and during this time I have often heard that NABCEP certificants say that they want an accreditation for their company, not just for themselves. With this new program NABCEP is finally able to offer that. This accreditation will help identify those companies that work to attain a higher standard."
NABCEP Installer and Technical Sales Certifications are granted to individuals who demonstrate that they have significant on-the-job leadership experience, a requisite amount of formal training, and then pass a rigorous examination. NABCEP Company Accreditation will be granted to companies that, through the application process, document that they meet a proscribed set of criteria. More information on the Company Accreditation Program, as well as an application, can be found on the NABCEP website at http://www.nabcep.org/company-accreditation.
About NABCEP: The North American Board of Certified Energy Practitioners (NABCEP) is the most respected, well-established and widely recognized national certification organization for professionals in the field of renewable energy. NABCEP is a volunteer board of representatives who are chosen based on their experience and involvement in the solar energy industry. NABCEP's mission is to develop and implement quality credentialing and certification programs for practitioners by supporting and working closely with professionals and stakeholders in the renewable energy and energy efficiency industries. To learn more, visit www.nabcep.org.
Featured Product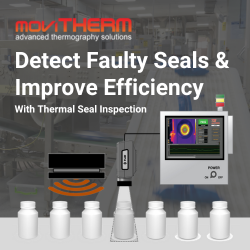 MoviTHERM's Thermal Seal Inspection (TSI) solution provides precise and reliable detection of defects in a variety of packaging types, including pouches, bags, blister packs, bottle caps, and more. By detecting defects in your packages, the TSI solution helps increase efficiency in your production line and ensures top-quality packaging is delivered to your customers every time. With state-of-the-art technology and an experienced team, MoviTHERM is dedicated to delivering accurate inspection solutions and peace of mind to its clients. Contact MoviTHERM today to learn more about their thermal seal inspection solution.