Project Partners Smart Energy Capital, Wilson Electric, Duke Energy, Integrys Energy Services, APS, and Prescott Valley to Celebrate Project Completion
White Plains, NY (April 30, 2012) – Just five months after breaking ground, the Town of Prescott Valley, Arizona, along with several project partners, is now celebrating the completion of two major solar projects that have been designed to serve them solar energy for many years to come.

Town officials and participating builders and investors will be on hand for a ribbon cutting ceremony Tuesday, May 1, at 2:00 P.M. They will officially flip the switch, providing the Town with an affordable, long-term energy source. The event will be held at the Tank Farm solar facility located at 3820 N. Prescott East Hwy, Prescott Valley, AZ.
The installation was facilitated in part by the Arizona Public Service Renewable Energy Incentive Program. This program offers financial incentives to customers who add renewable energy systems to their homes or business. It is funded by APS customers and approved by the Arizona Corporation Commission.
Smart Energy Capital, a leading solar development and finance company, partnered with INDU Solar Holdings, LLC ("INDU Solar") and Wilson Electric of Tempe, Arizona, to build the approximately 1.5-megawatt DC ground-mount fixed tilt systems. The 13,524 solar modules, housed at the town's water pump stations and wastewater treatment plant, will provide a significant amount of solar-generated power over the life of the projects.
"We are excited to celebrate the completion of the development and construction phase of Prescott Valley's large solar energy projects and look forward to continuing to support solar development in Arizona," said Smart Energy Capital Managing Partner Brian Weisman. Smart Energy funded the development phase of the projects and a project company owned by INDU Solar funded the installation. Under the terms of a 25-year power purchase agreement, the project company owned by INDU Solar will sell 100 percent of the electricity that the facility generates to the town of Prescott Valley at a fixed rate.
About INDU Solar Holdings, LLC
INDU Solar is a joint venture formed by Integrys Solar, LLC, a wholly-owned subsidiary of Integrys Energy Services, Inc., and Duke Energy Renewables, a wholly-owned subsidiary of Duke Energy Corp., to develop, construct, finance, own and operate solar photovoltaic projects that are originated and developed on behalf of commercial, school, government and utility customers throughout the United States. The joint venture, developed in partnership with Smart Energy Capital, is unique in that it provides 100 percent of the financing for project construction and incorporates all federal tax benefits in a single structure, thereby eliminating the need for separate construction financing or tax equity structures for individual projects.
About Duke Energy Renewables
Duke Energy Renewables, part of Duke Energy's Commercial Businesses, is a leader in developing innovative wind and solar energy solutions for customers throughout the United States. The company's growing portfolio of commercial renewable assets includes 10 wind farms and 11 solar farms in operation in eight states, totaling approximately 1,000 megawatts in electric-generating capacity. Learn more at www.duke-energy.com/renewables
. Headquartered in Charlotte, N.C., Duke Energy is a Fortune 500 company traded on the New York Stock Exchange under the symbol DUK. More information about the company is available on the Internet at: www.duke-energy.com .

About Integrys Energy Services, Inc.
Established in 1994, Integrys Energy Services, Inc. provides competitive energy supply solutions, structured products, and strategies that allow retail residential, commercial, and industrial customers to manage their energy needs. Its principal energy marketing operations are in the northeastern quadrant of the United States. Through its subsidiary, Integrys Energy Services – Natural Gas LLC, Integrys offers natural gas products to a full range of end-users throughout the Midwest. Areas of generation expertise include cogeneration, distributed generation, renewables such as solar and landfill gas, as well as clean fuel generation, with facilities in selected markets throughout the United States. More information about Integrys Energy Services is available online at www.integrysenergy.com . Integrys Energy Services is a subsidiary of Integrys Energy Group (NYSE: TEG), a Fortune® 500 company with a 150-year heritage. More information about Integrys Energy Group, Inc. is available online at www.integrysgroup.com ."

About Smart Energy Capital
Smart Energy Capital, LLC (www.smartenergycapital.com) is a leader in the financing and development of solar energy projects for commercial, government, and utility customers. The Company manages the development, financing, installation, and operations of distributed power plants throughout the United States. The company maintains extensive relationships with an array of lenders and investors.
Featured Product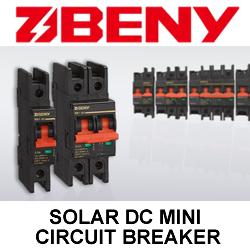 The BB1-63 modular miniature circuit-breakers can be used in solar DC circuits up to 1200 VDC (4-poles execution). Application in solar DC circuits, battery energy storage systems and UPS. Arc flash barrier design keeps solar equipment more safe and reliable. For DC circuit over-current protection.