Ontario is the fastest-growing solar PV region in North America. In just 8 weeks, Solar Network will host the most comprehensive conference on solar PV ever held in Ontario.
SSX (Solar Summit & eXpo) is focused on the practical; helping you to execute effectively on FIT 1.0 contracts and guiding you to gain market share and maximize your ROI under the new FIT 2.0 regime. It's also about preparing for the future. Over forty speakers are already confirmed - leaders you've heard from before, and fresh voices that are sure to shake things up.

We'll be getting you face-to-face with players in the new Community, MUSH and Aboriginal groups that are critical in the new point system. Tracks are also dedicated to opportunities in emerging markets beyond Ontario, and what can be done to develop a sustainable market in the province beyond 2012. And there will be special tracks for each sector of the PV market: Large-Scale Ground-Mount, Commercial Rooftop, and microFIT projects.
We'll be announcing our terrific Keynotes shortly. Each day we are adding more speakers. To view the list of speakers currently confirmed, visit our website: www.ssx2012.com
B2B Expo, Workshops & Seminars!
SSX Ontario also features an exciting eXpo featuring a wide array of companies offering products and services to help you succeed. Over 2,000 delegates are expected to attend. Our limited exhibit space is selling out fast.
Confirmed exhibitors include:
Campbell Scientific, Carlo Gavazzi, Civic Solar, Cleave Energy, Eclipsall Energy, EverEnergy, Firestone Building Products, FirstLight Technologies, Galaxy Energy, Gemco Solar, KB Racking, Kinetic Solar, Moose Power, NorthGrid Solar, Ontario Solar Academy, Ontario Solar Standards Board, PCL Renewable Energy, Schletter Canada, Siliken Canada, Solar Parking Solutions, VEP Solar, Westburne, and more.
In the coming weeks we'll be announcing more exhibitors, sponsors ,and special workshops and seminars. Find out how your company can reach new clients and strengthen its brand. Contact Graham Fowler by email: graham@solarnetwork.org or phone: 674-932-9750
Public Night: Get Involved! Find New End-Users & Engage the Public.
We all know the importance of reaching beyond the PV industry to advance our individual business interests and to build public support for solar policies. On the first day of SSX Ontario, the eXpo is open for PV business delegates only, until 6:00 pm.
After the the closing B2B reception, delegates and exhibitors will welcome the broad public, who will be joining us on the eXpo floor and in the Summit galleries for special programs from 6:00-9:00 pm. Stay tuned for more info on the Public Night ... next week! Get involved! Just contact us at events@solarnetwork.org.
Featured Product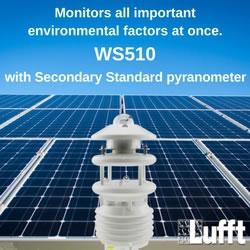 Professional weather sensors form the heart of large solar plants supporting their operation and performance. Lufft was the first manufacturer to combine several sensors in one housing, bringing the largest multiparameter weather sensor family with 19 members into being. Many of them are well-suited for solar site assessment and continuous monitoring. The most commonly used one is the WS600 delivering data on temperature, air pressure, wind, relative humidity and precipitation. Through its open protocol, it can easily be attached to radiation sensors e.g. from Kipp&Zonen. Other models have an integrated Silicon, Second Class or Secondary Standard radiation sensor.