Financing Eliminates the Upfront Cost of Solar
WILMINGTON, NC, May 1, 2012 – Cape Fear Solar Systems, Southeastern North Carolina's leader in the design and installation of residential solar systems, started offering multiple financing options for homeowners who would like to lower their monthly energy bills with solar, but face obstacles regarding the upfront cost of the system.

Although residential solar leasing is not available in the State of North Carolina, expanded financing options are bringing solar to the door steps of homeowners that would like to become more energy independent, but may not have the necessary cash available. Cape Fear Solar Systems has partnered with leaders in solar lending to offer complete financing solutions to savvy proprietors.
With six financing options available, property owners can choose what suits their situation the best. Some would like to wait for their tax refunds, some for an end of the year bonus; in those instances, Same As Cash or a Credit Line can be the right option. If building or buying a new home, it makes sense to include solar in the mortgage, or to obtain a Home Equity Line or Mortgage Cash Out.
However, solar is also making it big on roofs of existing houses as there are other benefits associated with the installation outside of the attractive monthly savings, tax credits and production rebates. Those benefits include energy independence, reduction of the rooftop's heat inflow during hot summer months and the reduction of one's carbon footprint.
Various studies demonstrate the value added to each home with solar installed, as buyers are willing to pay extra for homes that have lower monthly operating costs. According to a study released by Lawrence Berkeley National Laboratory, solar adds value to the property at an average of $5.50 per watt. Therefore, a typical 3kW photovoltaic system costing anywhere from $16,000 to $18,000 before tax credits and incentives (depending on the type of panels and the balance of system materials) would add approximately $16,500 to the home's resale value.
Homeowners can go solar with the 5, 10, 15 or 20 Year Loan programs or obtain a Renovation Loan. In many cases, the monthly payments can be lower than the value of the energy offset, resulting in immediate savings.
For homeowners wanting to go solar, it is often a question of the initial upfront payment for the system. "With the Same-As-Cash financing, our down payment was $0 for a 5.6 KW PV system. Over the next twelve months we had time to receive our tax credits and utility rebates and apply them against the system's cost," says Susan, a Wilmington based homeowner. She further points out, "The system was designed to provide 53% of the electricity for our home, the tax incentives and utility rebates brought the cost of the system down to one third of the upfront cost. Where else do you get a deal like this?"
This new financing portfolio has been carefully prepared with established national and local financial institutions to get the best deals for customers and at the same time to support the local economy. The available financing options are being offered with the goal to facilitate adoption of green energy by homeowners. With solar financing, homeowners can enjoy lower utility bills and at the same time benefit from attractive investment tax credits and available incentives.
"Financing solar systems is becoming very popular, as it brings an immediate energy savings and solves the challenge regarding the upfront investment," states John Donoghue, President of Cape Fear Solar Systems. "With various forms of financing offered, more people can adopt solar to ultimately benefit our entire community," Donoghue closes.
About Cape Fear Solar Systems, LLC
Wilmington, NC based Cape Fear Solar Systems, LLC is the Southeastern North Carolina's leader in the design and installation of residential and commercial solar systems. Fully licensed, insured and certified, Cape Fear Solar System offer a wide range of solar panels for solar thermal (solar water heating), photovoltaic (solar electric) and solar pool heating systems.
Cape Fear Solar Systems is a NABCEP Certified Solar PV, Solar Thermal™ and PV Technical Sales™ Installer, which are the distinguishing marks indicating profound knowledge and experience within the solar industry assuring high quality installations for property owners. Cape Fear Solar Systems is recognized by their customers for having a high standard of integrity, accuracy in forecasting the output of installed solar systems, and outstanding post-installation customer service.
Extensive experience in solar installations, in-house design and engineering, and being an Authorized Dealer for the most efficient solar panels on the Planet, SunPower, makes Cape Fear Solar Systems the go to company for turnkey solar solutions. To learn more about the company and its green services, please visit www..CapeFearSolarSystems.com
Featured Product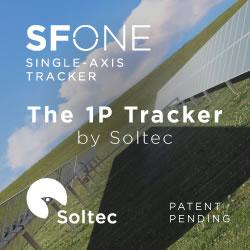 SFOne is the 1P single-axis tracker by Soltec. This tracker combines the mechanical simplicity with the extraordinary expertise of Soltec for more than 18 years. Specially designed for larger 72 an 78 cell modules, this tracker is self-powered thanks to its dedicated module, which results into a lower cost-operational power supply. The SFOne has a 5% less piles than standard competitor, what reduces a 75% the labor time.