Student Initiatives Lead the University to a Clean Energy Future
SAN DIEGO, CA (May 1, 2012) – San Diego State University (SDSU) is now powering one of its busiest student facilities with solar energy. The Aztec Recreation Center (ARC), a facility managed by the SDSU student government, Associated Students, is the newest addition to student initiated sustainability projects on campus. The facility, which is managed by Associated Students now hosts the second largest solar array on campus.

"This project represents the student led initiative for sustainability on campus," said Morgan Chan, Sustainability Commissioner of Associated Students, "Sustainability is important to the students, the size of this project and the great savings we will have because of the new solar array really stands out to people within the Associated Students and the larger University community as well."
The funding to build the new solar installation came from a student-introduced referendum that was passed by the student body in spring 2008 to provide sustainable upgrades to campus facilities in addition to other programming. The solar project on the ARC will save 11,314,002 pounds of CO2 being emitted into the atmosphere over the next 20 years. Locally headquartered Sullivan Solar Power designed and installed the 250,115-Watt solar photovoltaic installation using American-made Sharp solar panels to support the national economy and stress corporate social responsibility.
"This is the sixth solar project we have done for Associated Students and it is great to see that there is such a strong commitment coming from SDSU's student leadership," said Daniel Sullivan, founder and president of Sullivan Solar Power. "During an era of budget cuts and furlough days in higher education, it is reassuring that the Aztecs are setting a national example and doing their part to save students money."
The solar power system will lower Associated Students costs, help keep student membership fees low, and assist the organization and the University achieve internal sustainability goals. To put an emphasis on education, all visitors who enter the facility can view the monitoring watch the live production of the solar power system on a screen. Student leaders explain that they are empowering the SDSU community, leaving behind a legacy to benefit future generations of students.
"This project will continue to instill a culture of sustainable responsibility for all students, faculty, and staff," said student body president Cody Barbo, "We hope that the visibility of the solar panels at our facilities will encourage prospective students and visitors to ask questions, to learn about the benefits of solar energy, and how it's reducing our impact on the environment."
About Sullivan Solar Power
Sullivan Solar Power is a turnkey solar system provider that delivers solar electric projects from concept to completion. The company has installed over 9,000,000 watts of solar power ranging from small-scale residential to large-scale commercial and municipal systems. Sullivan Solar Power is headquartered in San Diego, CA and owned and operated by Daniel Sullivan. The firm has been named one of the fastest growing energy firms in the nation by Inc. Magazine and services all of Southern California. Regardless of project size and scope, Sullivan is committed to delivering the best products and the most qualified professionals to its customers. Visit sullivansolarpower.com for more information.
Featured Product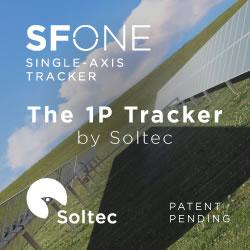 Soltec manufactures and supplies solar trackers designed and proven for extreme climate conditions, which is an ideal solution for any region's environment. Soltec's trackers are self-powered, requiring no additional PV module or grid-powered connection. Bifacial modules collect energy on both the front and rear sides, capturing reflected irradiance from the ground surface under and around the tracker and from other modules. Depending on site conditions, bifacial yield-gain can reach +30 percent.