- New colors and transparency levels for modern façade installations - All products of Masdar PV now have a product warranty of ten years - The Company will be participating in the Solarexpo in Verona, Italy
Ichtershausen-Germany, 8th May, 2012 – Masdar PV, manufacturer of thin-film photovoltaic solutions, will be presenting its innovative products on this year's Solarexpo, Verona, the international exhibition and conference for renewable energy and distributed generation. Besides optimizing its modules for large-scale ground mounted solar plants and industrial rooftop installations, the Germany based company currently focuses on the development of state-of-the-art modules for building integrated photovoltaic (BIPV). Masdar PV will take its first appearance on the Solarexpo this year as opportunity to present thin-film-products in various colors and transparency levels, which make roofs and façades not only an autonomous solar power plant, but turn them into a real eye catcher.

At the exhibition Masdar PV will display its high quality photovoltaic modules – which are available in sizes up to 5,7 m² – in different colors, offer architects a broad range of stylish roof and façade installation designs. By scribing the modules, a special production technology which combines fully transparent glass and solar wavers on a single module, façades can even appear in an elegant striped look.
"BIPV is an emerging branch within the photovoltaic industry. With these new products we expand our portfolio, fulfilling the growing demand for flexible and versatile applicable solar modules in this sector" says Dr. Matthias Peschke, COO of Masdar PV.
As Masdar PV is solely manufacturing at its German production site, all modules are produced under the label "Made in EU", a criteria which renders them extremely attractive for Italian customers. Besides this, the company doubled the product warranty on material and workmanship for its products from five to ten years, making them particularly reliable for long-term projects and eligible for the Italian Conto Energia scheme. One example for the advantageous implementation of Masdar PV modules is the solar power plant on the roof of the "City of books" near Milan, one of Europe's largest logistic centers: Masdar PV delivered thin-film modules with a total nominal output of 3.44 MW.
Moreover, Masdar PV cooperates with renowned suppliers for mounting systems and inverters. The company's modules are thus suitable for almost every application, from industrial-scale ground mounted, flat-roof or building-integrated installations.
Come and meet us at hall 8, stand B2.1 at the Solarexpo in Verona, Italy, May 9 – 11, 2012.
About Masdar PV GmbH
Masdar PV GmbH develops and produces innovative thin-film solar products and solutions. The company is part of the Masdar Power Business Unit and is a 100 % subsidiary of Masdar, Abu Dhabi's multifaceted energy company for innovative renewable energy technologies, fully owned by Mubadala Development Company.
The selection of module sizes that customers can choose from and the products' advantageous cost-benefit ratio ensure that the high-tech modules are ideally suited for industrial ground mounted installations and large-area rooftop systems. Transparent modules allow architects to build futuristic, façade-integrated PV installations.
Please visit our websites for additional information: www.masdarpv.com and www.masdar.ae.
Featured Product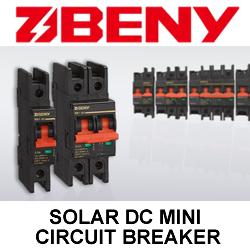 The BB1-63 modular miniature circuit-breakers can be used in solar DC circuits up to 1200 VDC (4-poles execution). Application in solar DC circuits, battery energy storage systems and UPS. Arc flash barrier design keeps solar equipment more safe and reliable. For DC circuit over-current protection.