British companies join UK Energy Minister Greg Barker to build low-carbon collaboration with US
Houston, TX (May 7, 2012) – A delegation of leading British low-carbon businesses, led by Greg Barker, UK Minister of Energy & Climate Change, will visit the United States this week to share best practices and expand collaboration in developing both nations' low-carbon economies. Visiting Houston, San Antonio and Atlanta, the seven British companies joining Minister Barker range from multinational companies such as Rolls-Royce to growing innovators like KiWi Power, a smart grid intelligence firm.

"The growing global market in green goods and services represents a huge range of opportunities for UK businesses," said Greg Barker. "What is good for the planet can be fantastic for business too and I want to help British entrepreneurs and companies seize those opportunities with both hands."
Britain's ambitious low-carbon policies – including the UK's commitment to reducing its own carbon emissions by 80 percent by 2050 – are a core driver behind the extensive capabilities being developed by the UK. The nation is already the global leader in offshore wind expertise, and is increasingly recognized as a frontrunner in several other clean technology sectors. For example, the Green Deal, a British government initiative to retrofit 26 million buildings in the country, is positioning the UK as a hub of green building and energy efficiency expertise.
"The UK's commitment to low-carbon economic growth is strongly demonstrated by the diverse delegation of companies accompanying Minister Barker," said Michael Rosenfeld, UK Trade & Investment, Vice-Consul – USA Clean Technology Sector Lead Officer. "The companies joining the minister on this US trade mission represent examples of British low-carbon know- how, which benefits the new green economy. The UK is committed to share its low-carbon knowledge as well as learn from American business and policy leaders who also are focused on transitioning to a cleaner, more prosperous economy."
The trade mission has three main aims: 1. to help British companies break into the US market; 2. demonstrate the opportunities presented by the green economy; and 3. highlight the significant opportunities for investment in the UK.
Minister Barker and the delegation's business leaders will meet with American political officials, business groups, investors and regional development organizations to explore the openings for UK green business in the US and the inward investment opportunities that the UK's low carbon sector has to offer.
In addition to Rolls-Royce and KiWi Power, the five additional UK companies joining Minister Barker include Doosan Power Systems, Jupiter Asset Management, PB Energy Solutions, Parhelion Underwriting and FiveBarGate Consultants.
The delegation is visiting Houston, San Antonio and Atlanta as these are some of the fastest growing regions of the US with rich opportunities for low-carbon growth and for UK-US business collaboration. For example, Houston, a center of the traditional energy sector, is quickly becoming a leader in renewable energy as well and creating an environment conducive to green business.
"Britain is leading the way in demonstrating that the shift to a green economy is beneficial for businesses and growth," said Barker. "As well as helping our companies get a greater understanding of the opportunities in the US market, I also want to use this visit to show US firms why they should be investing in the UK."
North American renewable energy and clean technology companies interested in learning more about business opportunities in the United Kingdom are encouraged to contact Mike Rosenfeld, UK Trade & Investment, Vice Consul – USA Clean Technology Sector at 310 420 0835 or mike.rosenfeld@uktradeinvestusa.com.
About UK Trade & Investment
UK Trade & Investment (UKTI) is the British department that helps UK-based companies succeed in the global economy. We also help overseas companies bring their high quality investment to the UK's economy – acknowledged as Europe's best place from which to succeed in global business. UKTI offers expertise and contacts through its extensive network of specialists in the UK, and in British embassies and other diplomatic offices around the world. We provide companies with the tools they require to be competitive on the world stage. For more information on UKTI, visit www.ukti.gov.uk or telephone +44 (0)20 7215 8000. For latest press releases, visit the online newsroom at www.ukti.gov.uk/media.
Featured Product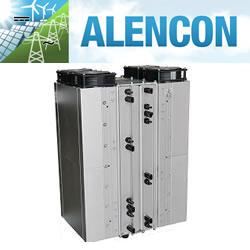 Alencon Systems is the premier manufacturer of high power, high voltage DC:DC optimizers for alternative energy applications including solar, battery energy storage, Microgrids, Fuel Cells and Electric Vehicle charging. Alencon's DC:DC converter offerings include the SPOT, BOSS and CUBE series DC:DC converters. The SPOT is a modular, uni-directional DC:DC solution ideal for solar applications. The BOSS is a modular, bi-directional unit for use with battery energy storage. The CUBE is a monolithic DC:DC converter which is available in both uni-directional and bi-directional modalities. Pictured above, is the Alencon SPOT.