- Government and industry leaders from more than 23 countries will discuss geothermal power from a global perspective -
WASHINGTON, D.C. (May 9, 2012)—The Geothermal Energy Association (GEA) announced that Sen. Jeff Bingaman (D-NM) will present the keynote address at the fourth annual International Geothermal Energy Showcase to be held this month in Washington, D.C. Sen. Bingaman, the Chairman of the Senate Energy and Natural Resources Committee, is a long-time supporter of the renewable energy sector and recognizes the economic and environmental potential of developing clean technology and green jobs.

Bingaman joins a host of minister-level speakers and geothermal executives who will present at the showcase. Confirmed speakers for the event, to be held on May 23 at the Ronald Reagan Building & International Trade Center in Washington, D.C., include Minister Emilio Rappaccioli, Ministry of Energy and Mining, Nicaragua; Dr. Fouad Ahmed Aye, Minister of Energy and Water, Republic of Djibouti; Friedo Sielemann, Counselor, Energy and Environment, German Embassy; Freddy Saragih, Fiscal Policy Board, Ministry of Finance, Indonesia; and Dr. Jerrol Thompson, Prime Minister's Office St. Vincent & Grenadines. Industry speakers include Shuman Moore, CEO, Ram Power; Halley Dickey, Director Geothermal Business Development, TAS Energy; and John Fox, CEO, Electratherm.
"Senator Bingaman had been a leader in advancing policies to expand renewable energy production as one of the keys to a strong economy and environmentally-fit planet," said Karl Gawell, Executive Director, GEA. "We are thrilled that he will share his vision of how government policies can help clean energy technologies grow with the distinguished roster of world and industry leaders attending the International Showcase."
Hosted by GEA in alliance with the U.S. Trade and Development Agency, U.S. Department of Energy, U.S. Agency for International Development, U.S. Department of State and the Export-Import Bank of the United States, the Showcase will highlight geothermal projects, policies and development from the world's key geothermal markets including the Caribbean, Latin America, East Africa, Europe, Asia and the Pacific. The program will encourage interaction and discussion about government policies, projects in development, market potential and opportunities for U.S. companies. Attendees will also hear from U.S. government agencies involved in export assistance for geothermal companies, and from U.S. companies developing projects overseas. GEA has confirmed attendance from government and industry leaders representing 23 countries. These countries include Belgium, Canada, Chile, Colombia, Costa Rica, Djibouti, France, Germany, Iceland, India, Indonesia, Kenya, Nevis, New Zealand, Nicaragua, Pakistan, the Philippines, Romania, Rwanda, St. Vincent & Grenadines, Tanzania, Turkey and the United States.
Geothermal power presently supplies the world with 10,715 MW of electricity in 24 countries, on six continents, but the potential to use geothermal resources is even greater. In a 2010 International Market Update, GEA identified 70 countries with new projects under development or consideration. With the technology available today and currently under development for the future, geothermal resources could supply more than 300,000 MW of power while producing far fewer carbon emissions than from legacy sources. According to the Department of Commerce, geothermal is one of only two renewables that exports more than it imports in the United States. Geothermal equipment manufacturers and service providers exist in almost every state.
Join the conversation on Twitter by following GEA at @geoenergist and event tag #GEAIntlShowcase.
To register for the International Geothermal Energy Showcase, or for more information, please visit http://geo-energy.org/events/GEA_ShowCase_05_23_12.aspx.
To request press credentials, please contact Shawna Seldon, The Rosen Group, 212 255 7541 or Shawna@rosengrouppr.com.
About the Geothermal Energy Association:
The Geothermal Energy Association (GEA) is a trade association composed of U.S. companies who support the expanded use of geothermal energy and are developing geothermal resources worldwide for electrical power generation and direct-heat uses. GEA advocates for public policies that will promote the development and utilization of geothermal resources, provides a forum for the industry to discuss issues and problems, encourages research and development to improve geothermal technologies, presents industry views to governmental organizations, provides assistance for the export of geothermal goods and services, compiles statistical data about the geothermal industry, and conducts education and outreach projects. For more information, please visit http://www.geo-energy.org/. Check out GEA's YouTube Channel. Follow GEA on Twitter. Become a fan on Facebook.
Featured Product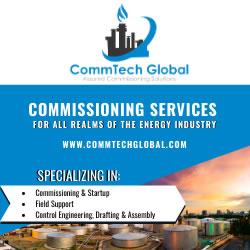 CommTech Global Solutions, LLC, provides professional and reliable commissioning services to customers in all realms of the energy industry. We blend our skills in engineering and technology with innovative business models, offering a complete range of services to assist you for a successful and in compliance operational startup. Consolidation of all our service domains gives our clients a comprehensive set of expertise and far-reaching experience on each project.