Motech Americas has significantly increases its product offerings for developers and installers with new products to meet the growing needs of the PV industry, world
NEWARK, DE (May 10, 2012) - Motech Americas, LLC, the PV module engineering center for the sixth largest cell manufacturer in the world today, Motech Industries, has significantly enhanced and diversified the Company's product offering based on requests from their large and growing worldwide customer base of PV developers, installers and integrators. The newest enhancements to their entire product line give Motech one of the highest performance and most diversified product offerings in the industry. Motech is proud to announce the following additions to its product line:

- Solar cell enhancements. New cell types are now available, both multicrystalline and monocrystalline cells with three bus bars to increase yield.
- Higher power modules. New cells enable the upper power limits on all modules to be pushed higher. For example, 255W monocrystalline 60 cell modules and 310W 72 monocrystalline modules are available today and even higher powers are certified, ready for launch this year.
- Broad range of module configurations. Module configurations from 72, 60, 54, 48, 42, and 36 are available in all certified cell types.
- Frame modifications. Two additional frame profiles, 40mm and 45mm, are now available in addition to the existing 50mm frame.
- Expanded mounting configurations. Enabling greater installation flexibility, additional mounting positions have been qualified.
- Grounding improvements. Wiley's WEEB grounding washers and a SolarDock grounding clip are now authorized for use in installations.
- Progressive Linear Warranty. Because Motech is confident of our ability to deliver higher performance from our higher efficiency cells, we guarantee the best performance through our 25-year progressive linear warranty.
- Motech Model Name Update: our model naming convention has been updated to allow for easier distinction between the different product classes and better traceability to help developers meet the financial specifications of the PPA and leasing markets.
Each of these enhancements was in response to feedback from our customers. Motech is continually utilizing the experience and evolving requirements of our customers to improve our products and provide systems that exceed customer expectations.
About Motech Americas
Motech Americas LLC, is the most experienced manufacturer of solar modules. Its Newark, Delaware facility has been in operation for more than 20 years. Motech utilizes Six-Sigma rigor, best in class quality, and customer fulfillment standards that are second to none. Fully intelligently and vertically integrated, Motech Industries is the sixth largest solar cell manufacturer in the world, providing complete control over its supply chain and access to superior cell products. For additional information access http://www.motech-americas.com.
Featured Product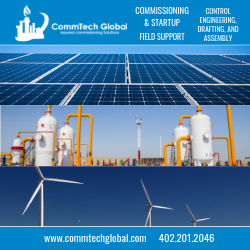 CommTech Global Solutions, LLC, provides professional and reliable commissioning services to customers in all realms of the energy industry. We blend our skills in engineering and technology with innovative business models, offering a complete range of services to assist you for a successful and in compliance operational startup. Consolidation of all our service domains gives our clients a comprehensive set of expertise and far-reaching experience on each project.