Leading partisans will speak amid bipartisan effort to keep U.S. wind growing
WASHINGTON – In a year of partisan politics, two leading partisans will seek common ground at the biggest annual gathering of the wind industry – which is counting on bipartisan support to continue its rapid growth in the United States.

Karl Rove and Robert Gibbs will address thousands of attendees together June 5 in Atlanta at WINDPOWER®2012, announced the American Wind Energy Association (AWEA) today.
Rove, former deputy chief of staff and senior advisor to President George W. Bush, and Robert Gibbs, former White House press secretary and longtime senior advisor to President Barack Obama, will jointly keynote in the Tuesday morning General Session of the annual conference and exposition.
Their conversation will touch on many sides of the energy policy debate, and point out where party perspectives overlap — highlighting the opportunity for bipartisan agreement in support of wind power, one of the fastest-growing sources of manufacturing jobs in America, which draws over $15 billion a year of private investment in the U.S. economy.
Denise Bode, CEO of the American Wind Energy Association, welcomed Rove and Gibbs' agreement to appear on stage together, saying they symbolize the politicians across the political spectrum who are willing to oppose what would be felt as a crushing tax increase on wind energy.
"These are major opinion-leaders," Bode said, "and a goal of AWEA and WINDPOWER is to get the amazing wind success story in front of every opinion-leader in the country, whatever their position, to help inform the national debate on energy and secure broad support for wind energy."
WINDPOWER is being held in the Southeast for the first time this year in recognition of the fact that it has emerged as a hot spot for wind energy manufacturing. The theme of the overall conference is "Manufacturing the Future Today." Factories in the wind supply chain now employ 30,000 Americans, out of 75,000 currently working in wind energy. But those jobs are now in jeopardy because of uncertainty over the Production Tax Credit, due to expire at the end of this year unless Congress extends it.
Leaders of a bipartisan effort on Capitol Hill to extend the PTC yesterday joined the U.S. industry at a press conference in calling on Congress to find a legislative vehicle soon — and avert thousands of layoffs now beginning in factories across America. The House Ways and Means Committee meets today to hear testimony from Republicans and Democrats alike who support an early extension of the PTC to continue the U.S. industry's rapid growth in jobs and manufacturing.
"Timing is everything," Bode said. "Our situation is urgent because we're already starting to lose over $15 billion-a-year in private investment in American, and 37,000 U.S. jobs depend on early extension of the Production Tax Credit, according to a recent study by Navigant Consulting. Our message to Congress is simple: Don't raise taxes on wind. We'll be fascinated to hear how both Mr. Rove and Mr. Gibbs tackle this topic."
Nearly nine out of 10 voters—Republicans, Democrats and Independents—have repeatedly told pollsters that increasing the amount of energy the nation gets from wind power is a wise choice.
Registration for WINDPOWER 2012, June 3-6 at the Georgia World Congress Center in downtown Atlanta, is now open, at www.windpowerexpo.org. Additional information:
· This event is the world's largest annual gathering of wind industry players.
· For photos and video of the co-chairs, visit http://www.windpowerexpo.org/education/
· Reporters can register by contacting mediapass@awea.org.
AWEA is the national trade association of America's wind industry, with more than 2,500 member companies, including global leaders in wind power and energy development, wind turbine manufacturing, component and service suppliers, and the world's largest wind power trade show, the WINDPOWER Conference & Exhibition, which takes place next in Atlanta, June 2-6, 2012. AWEA is the voice of wind energy in the U.S., promoting renewable energy to power a cleaner, stronger America. Look up information on wind energy at the AWEA website. Find insight on industry issues at AWEA's blog Into the Wind. Join AWEA on Facebook. Follow AWEA on Twitter.
Featured Product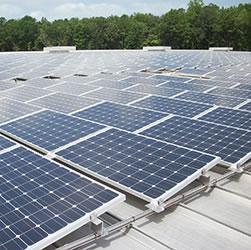 The Power Rail™ Commercial Mounting System is designed with the professional PV solar installer in mind. Both the XD/UD and LD/MD rails feature single tool assembly with the revolutionary patented RAD™ Lock-in-Place bolt for fast and secure module clamping. The high strength marine-grade aluminum rails include an integral wiring channel for securing cables and providing a professional finish.