GTM Research Solar Analyst, Shyam Mehta Comments on the Affect the Latest Round of Preliminary Tariffs Will Have on Industry Dynamics
BOSTON, May 17, 2012 (GLOBE NEWSWIRE) -- Today, the U.S. Department of

Commerce (DOC) levied a second round of preliminary tariffs against Chinese
solar module imports in the ongoing trade war between U.S.
solar manufacturers and their Chinese counterparts. The following are the
anti-dumping tariffs handed down this afternoon:
-- Suntech: 31.22 percent
-- Trina: 31.14 percent
-- Everyone else: 31.18 percent
These anti-dumping tariffs will be compounded by the countervailing duties
that the DOC levied on March 20. The countervailing duties are listed below:
-- Suntech: 2.90 percent
-- Trina: 4.73 percent
-- Everyone else: 3.59 percent
The following is a series of comments from GTM Research's Senior Solar
Analyst, Shyam Mehta on how the tariffs will affect Chinese suppliers in the
U.S.
"While the margins are not as high as those seen in many previous U.S.-China
antidumping cases (electrical blankets, steel grating), they are certainly
much higher than Chinese manufacturers would have hoped for," said Mehta.
"Stacked onto the margins for countervailing duties, they amount to levels
of 35-36%, which is significant."
"Keep in mind that this is a preliminary decision. We expect Chinese
manufacturers and CASE representatives to contest the findings in days
ahead."
"The margins were obviously driven in part by the Department of Commerce's
choice of the 'proxy economy' to estimate costs, as China is considered a
'non-market economy'."
"At these margins, China-based manufacturers would certainly have to raise
U.S. prices to turn a profit. It is not feasible for them to maintain prices
at tariff-free levels and still be profitable. In the short-term, this is
likely to lead to module price increases in the U.S. which would serve to
dampen demand and installation growth. If the Chinese were to absorb the
tariff, it would place their costs close to parity with many U.S.-based
suppliers."
"However, Chinese firms are hardly likely to stand still. Broadly speaking,
they have two strategies: set up cell manufacturing outside China, or use
the tolling services of Taiwan-based suppliers to turn wafers into cells
there, and then assemble the modules in China. Both strategies would allow
the Chinese to bypass import tariffs. We estimate that tolling cells to
Taiwanese firms would increase Chinese costs by 6-12%, which is meaningful
but manageable."
"Given this, we do expect that the decision will result in at least
incremental investment in domestic manufacturing by Chinese firms.
However, there are other, lower-cost manufacturing locations that these
firms could set up manufacturing in, such as Mexico and Taiwan, for example
that would still allow them to price their modules below that of U.S.-based
suppliers. Therefore, we see the impact of this decision on U.S.
manufacturing as positive, but spurring limited investment in the future and
likely only temporary relief for existing U.S.-based suppliers."
For further reading on the trade case from GTM Research and Greentech Media,
visit
http://www.greentechmedia.com/articles/read/Breaking-News-Commerce-Dept
.-Chinese-Solar-Panel-Dumping-Verdict-Is-Now-In/
ABOUT GREENTECH MEDIA
Greentech Media delivers news, research, and analysis in the
business-to-business greentech market. Using an integrated platform, we
produce high quality products, whether it is industry news, market research
or networking events. GTM Research, the research arm of the company,
produces in-depth market reports and is the publisher of PVNews, a monthly
solar market tracker. Greentech Media is headquartered in Boston, MA, with
operations in New York, NY, and San Francisco, CA. For more information,
visit: greentechmedia.com, follow us on twitter: @greentechmedia, or like us
on Facebook:
facebook.com/greentechmedia.
Featured Product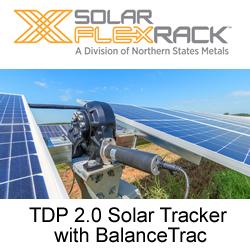 Solar FlexRack's latest solar tracker technology bundles an advanced tracker design with a full team of seasoned engineering and installation experts at your service. The next-generation solar tracker delivers a package of features that both enable increased energy yields for commercial and utility-scale solar installations, and significantly reduce project risks. That translates to smart installation cost-savings across your project budget.