IESVE 2012 includes new solar features, providing architects with more intelligent early architectural analysis tools
Washington, DC – May 17, 2012 – Integrated Environmental Solutions (IES), a provider of integrated performance analysis software and consulting services for sustainable building design and operation, today announced the latest release of its Virtual Environment software suite, IESVE 2012. This includes the new ModelViewer II which features solar shading, solar arc and improved reporting capabilities, and is available to all VE-Gaia and VE-Pro users. Important Solar Analysis features have also been added to the VE-Pro module SunCast, allowing users to view Solar Energy/Intensity on a 3D model. IES will showcase these new features this week in Washington, DC at the American Institute of Architects 2012 National Convention and Design Expo at booth 2121.

With the new ModelViewer II users can now view real time shadows on the 3D model and choose the date and time they want shown. The new solar arc tool visualizes the sun's position in the sky in relation to the 3D model and the user can choose to toggle on or off views which show: azimuth, altitude, defined time, sun rise and sun set times, autumn equinox, and summer and winter solstices. Video animations can also be created across time periods.
ModelViewer II also offers greatly improved and simplified camera path functionality for video creation and reporting. The video formats supported now include .avi, .mpg, .mp4 and .wmv. There have also been updates to allow more sophisticated model viewing and image creation for reports. These include new viewer and image modes, adjustable sky background and the ability to turn on/off grid lines to give perspective and scale.
The new Solar Analysis features in SunCast offer users the ability to view solar intensity and solar exposure on a 3D model and determine their own parameters for analysis such as time period and resolution. This allows users to understand quickly, the intensity of the sun externally on the building facade and, amongst other analysis, identify the most effective place to position solar/PV panels based on the sun intensity received.
"The new solar features in IESVE 2012 are very important for early architectural analysis as part of a whole-building sustainable design process," said Don McLean, founder and CEO of IES. "Solar and daylight levels impact on form, orientation and window/wall ratios and shading requirements, amongst others. The AIA theme – Design Connects – rings true with this understanding of the way in which climate and building design connect and how this is key to low-energy, sustainable design. Our upgrades help us to further assist architects and designers from start to finish."
AIA 2012 starts May 17 in Washington, DC. For live updates from the showroom floor, follow @IESVE on Twitter.
About IES
Integrated Environmental Solutions' (IES) mission is to advance the sustainability of the world's built environment through the use of integrated performance modelling technology, delivering resource efficient, low-energy, zero-carbon buildings and cities for future generations. For additional information, please visit www.iesve.com.
Featured Product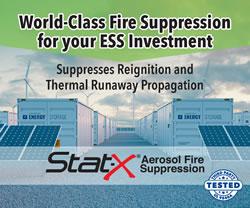 Stat-X® condensed aerosol fire suppression is a solution for energy storage systems (ESS) and battery energy storage systems (BESS) applications. Our Stat-X condensed aerosol fire extinguishing product was tested for efficacy in suppressing li-ion battery fires. It was found that the product successfully extinguished single and double cell battery fires. This testing was conducted in parallel with a large battery fire testing program on behalf of a large energy storage company.