The World Green Energy Symposium (WGES) is coming to DC and will be held June 21, 2012 at the Washington Post Conference Center featuring latest innovative technologies & products. WGES World Stage & Exhibits serve as a platform for latest launches and economic opportunities.
(Washington DC) The 2012 World Green Energy Symposium (WGES) will be held June 21, 2012 at the Washington Post Conference Center, Washington DC.
The World Green Energy Symposium (WGES) is known for drawing among the top echelon of presenters and the best minds in the industry. WGES serves as a platform for launches of new programs, case studies, policies, technologies, innovations, economic and contracting opportunities for government. The multi-discipline participants come together from industry, government, academia and nonprofit in a B2B, B2G, G2G setting.
The WGES provides opportunities for networking, learning, exchanging, exhibiting, procuring, and investing in the future of latest energy technologies. It provides the opportunity to showcase latest products & technologies to an enthusiastic and forward thinking audience.
You are invited to attend if you are:
Global & National Corporate Official & Program Directors
Federal, State, Local Government Official, Policymaker, Agency Program Manager, or a Contracting Specialist seeking to identify, inform, exchange & outreach with public and private sectors within this field
Government Agency, Government Contractor, Global Business, Entrepreneur, Environmental Organizations & Academia
You are invited to Showcase if you are or represent:
Banks, Financial Institutions & Investors
Engineers, Architects, Project Managers & Developers
Manufacturers, R&D and Distributors of new & green energy technologies or sustainable advancements in existing technologies
Scientists, Professors, Information Technology Professionals, Researchers & Innovators, Chambers, Consulates, Trade Organizations & University Students (with these disciplines)
Local, National & Global Media
Details & Location
World Green Energy Symposium (WGES) DC
Thursday - June 21,2012
Washington Post Conference Center
1150 15th Street NW
Washington DC 20005
Registration & Exhibits open: 7:00am - Exhibits Tear Down - 5:30pm
WGES Program Begins: 8:00am
WGES Program Concludes: 5:00pm
Registration & sponsorship opportunities found on http://www.wges.us
About WGES Organizing Council:
The World Green Energy Symposium (WGES) brings together the best minds from a multi-disciplined audience for unified symposiums designed to implement innovative thinking and showcase examples of products that will ensure environmental and economic success in the energy industry today and for the future. WGES programs attract leaders in the energy industry who present the latest case studies, unveil upcoming innovations and projects, discuss contracting opportunities and provide updates on the latest policy to a global audience and the media.
Featured Product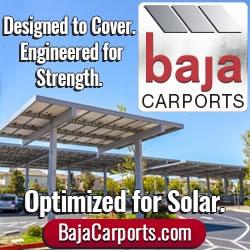 Baja Carports offers an extensive solar support system product line customized to customers' site specifications by in-house engineers, meeting their parking lot coverage, plus optimal PV production needs. Baja's Full Cantilever Tee is often paired with its Semi and Full Cantilever carports to meet live/loads up to 60psf and wind speeds to 160mph. All Baja products are pre-fabricated, bolted connections, pre-galvanized structural steel for fast on-site installation and project aesthetic requirements."