Changing regulation, delayed legislation and investment opportunities.
London, May 21st, 2012 – Entitled Renewable Heat Markets, Sustainable Venture Intelligence's latest market intelligence report examines the challenges currently affecting the industry following delays to the Renewable Heat Incentive and analyses current and future opportunities for investment, development and growth.

Much of recent attention of the press, investors and other stakeholders seems to have been focused on Solar PV and the recent controversy over Feed-In Tariffs (FITs). However, renewable heat represents a market over 10 times larger. With the sector accounting for over 40% of UK carbon emissions and worth an estimated £45bn, there is clearly a sizeable – and largely overlooked – prize at stake.
Despite the mistaken propensity for aligning the delayed RHI with the controversial FIT-driven solar market, the key to commercial success – as successful FIT-based businesses discovered – is timing. Far from opportunities disappearing because the RHI has been delayed, many already exist and will become even more attractive once a stable support mechanism is in place.
There is also no question that the overall business environment will improve as the renewable heat market matures. Though caution surrounding the RHI is likely to pervade for a time, we expect improving economies of scale by 2014/15 and falling technology costs to coincide with Government introducing additional incentives to drive uptake. Therefore, early responders positioning themselves alongside growth opportunities – identified and examined in our report – are most likely to enjoy significant rewards.
Key Findings from Sustainable Venture Intelligence's Renewable Heat report include:
* Regardless of their 'green' persuasions, all consumers will be tempted by renewable heat options that are cheaper than incumbent systems. This is already the case in a range of circumstances and while new technologies typically involve higher capital expenditure, which can delay payback and reduce return on investment, costs are already reducing and returns improving.
* The economics of a range of renewable technologies are already highly attractive, particularly in the commercial and public sectors where the requirements for heat are most compatible with the available technologies; regulatory and reputational drivers are likely to be most strongly felt; and the markets are less likely to be affected by some of the barriers hindering development elsewhere. Press Release
* Medium-scale biomass, for example, is a particularly attractive option in most non-domestic sectors – the market is in-place and the technology already competitive with coal and oil without the RHI.
* Later in the decade (2015-17), we expect improving economies of scale and falling technology costs to coincide with government introducing additional incentives to drive uptake. SVI expects this over-incentivisation to trigger a 'gold rush' in medium-scale biomass, but also that ASHPs could potentially begin to fulfil current bullish projections, at least in part, by finding traction much in the manner that solar has in the past few years.
SVI's report on the UK's renewable heat market provides proprietary analysis and forecasts for payback periods and rates of return on heat technologies currently eligible for RHI tariffs. It also identifies a number of potential growth areas in the sector through extensive market assessment across consumer needs, applicable legislation outwith the RHI and in-depth technology screening, at a time when coherent commentaries on opportunities in renewable heat are all-too rare.
About Sustainable Ventures
Sustainable Venture Intelligence (SVI) is a business unit of Sustainable Venture Development Partners (Sustainable Ventures), which works with cleantech investors, entrepreneurial managers, corporate partners and public sector bodies to originate, build and grow sustainable businesses. Our portfolio companies benefit from the on-going support of the Sustainable Ventures management team who have previously established 12 low carbon ventures attracting over £200m in equity commitments.
Featured Product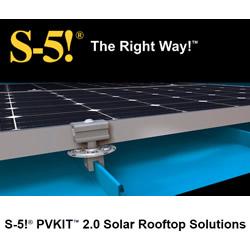 The concept of combining PV arrays with standing seam metal roofing is growing-for good reasons. Metal roofs have a life expectancy of more than 40 years. Shouldn't the mounting system last as long? With S-5! zero-penetration attachment technology and PVKIT 2.0, the solarized metal roof is the most sustainable system available -and without compromising roof warranties! PVKIT 2.0 is the also the best solution for attaching PV modules directly to any exposed fastener metal roof.