The LCOE for solar PV will continue to decrease due to declining capital costs and increasing capacity factor
LONDON, UK (GlobalData), 24 May 2012 - The cost of energy generation from clean sources such as solar power is edging ever-closer to those attributed to traditional sources, fostering growth in the renewable energy sector, according to a new report by energy experts GlobalData.

The new report* shows that the global cumulative installed solar PV capacity increase of 100% demonstrated during 2009-2011 is likely to grow even further as mass power consumers China and the US reach grid parity within the next few years.
In the US, solar PV technology is expected to reach grid parity for some PV projects in 2014, and by 2017 most regions in the country are expected to reach grid parity in alignment with average electricity prices in the residential sector. China is also due to witness similar developments, with grid parity for solar expected to reach in most regions by 2015-2016.
Levelized cost of electricity (LCOE) is the price at which electricity must be generated from a specific source to account for the cost of the energy-generating system. The LCOE for solar PV will continue to decrease due to declining capital costs and increasing capacity factor. These factors, combined with a lack of fuel costs, low operations and maintenance costs mean that the LCOE of solar PV technology is expected to be lower than average retail electricity prices from 2017 onwards.
Solar PV is a major renewable source of energy across the globe, accounting for around 14% of the global renewable capacity. It is also the fastest growing renewable power source in the world, having grown at a compound annual growth rate (CAGR) of 56.4% over the past five years. The global solar PV market witnessed high growth in 2010 and 2011, with 44.3 gigawatts (GW) of installed capacity coming online in these two years, in contrast to the 14.8 GW installed during 2008 and 2009.
Europe is currently the largest market for solar PV, but is expected to lose its market share to newly emerging markets such as India and China. These countries have announced ambitious PV targets, and are seen as the next hotbeds for PV investment, cushioned by favorable policy frameworks for the development of the renewable energy market. The global solar PV installed capacity will continue to grow at a CAGR of 20.2% 2011-2020, to reach 362,842 MW by 2020.
*Grid Parity for Wind and Solar Power - Future Outlook and Impact Analysis
This report provides historical and forecast (2006-2020) installed capacity for global wind and solar PV market, and analyzes Levelized Cost of Energy (LCOE) for wind and solar PV in major countries such as the US, Germany, Italy, the UK, China and India. LCOE for solar PV and wind is compared with conventional fuel sources such as coal, Combined Cycle Gas Turbine (CCGT) and nuclear power, and the report also provides analysis on solar PV grid parity and its future outlook for the abovementioned countries.
The report is built using data and information sourced from proprietary databases, secondary research and in-house analysis by GlobalData's Team of industry experts.
-ABOUT GLOBALDATA-
GlobalData is a leading global business intelligence provider offering advanced analytics to help clients make better, more informed decisions every day. Our research and analysis is based on the expert knowledge of over 700 qualified business analysts and 25,000 interviews conducted with industry insiders every year, enabling us to offer the most relevant, reliable and actionable strategic business intelligence available for a wide range of industries.
For more information, please contact our Press Office on +44 (0)1204 543 537 or at pr@globaldata.com.
Featured Product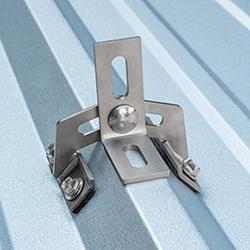 Explore new lines of income for your solar installation business with QuickBOLT's Stone Coated Steel roof mounts designed in partnership with metal roof manufacturers themselves. These SCS roof mounts work on all metal tile profiles and will help you bring in money you're missing out on. By not driving into the roofing material, QuickBOLT's Stone Coated Steel roof hooks maintain the integrity of the roof. Install with ease and confidence knowing your roof is protected against the harsh elements that these hooks are designed for.