Ray Angelini, Inc. has won their East Coast Installation of the Year award for its solar photovoltaic (PV) system installations for the Long Branch School District, Long Branch, NJ
Motech Americas, a solar company with a 20-year heritage of manufacturing the highest quality solar panels, announced today that Ray Angelini, Inc. (RAI) (www.raiservices.com) has won their East Coast Installation of the Year award for its solar photovoltaic (PV) system installations for the Long Branch School District, Long Branch, NJ. For a project to qualify as a Motech Installation of the Year it must embody innovative design, quality workmanship, efficient installation and best-in-class safety practices.

RAI utilized Motech IM60 235W solar modules manufactured in Delaware to successfully complete the design and installation of 10 solar photovoltaic (PV) system installations for the district - eight roof arrays and two canopy arrays. The largest array-559 kW consisting of 2379 panels-was installed on the roof of the high school. There were seven other locations throughout the district where RAI installed solar panels, including a 100kW installation at Anastasia Elementary School, a 62kW installation at Gregory Elementary School, 156kW at Lenna Conrow Elementary School, 101kW at Audrey Clark Elementary School, 773kW at Long Branch Middle School, 189kW at Morris Avenue School, and 14kW at the Long Branch Board of Education.
Many of the school district buildings have flat roofs that receive more sunlight allowing the panels to gather more solar power. In addition to the schools roofs being outfitted with solar panels, there are also solar canopies in two school parking lots. The system will produce over 2,357 kW annually, providing approximately 25% of the peak energy demand of the school district, saving over $421,949 per year in electricity costs. By utilizing the solar panels, the district is also receiving solar renewable energy credits, which could generate money for the schools. All of these locations are now generating solar energy as the panels have been activated.
"We are proud to provide solar modules to an organization as rich in solar experience and knowledge as RAI," stated Derick Botha, Vice President of Sales and Marketing for Motech Americas. "RAI cares about their customers and the community. We at Motech appreciate the opportunity to work with such a professional organization.
RAI has also provided the district with kiosks that educate students about the solar energy process.
About Motech Americas
Motech Americas LLC, is the most experienced manufacturer of solar modules, with its Newark, Delaware facility in operations for more than 20 years. Motech utilizes Six-Sigma rigor, best in class quality, and customer fulfillment standards that are second to none. Fully intelligently vertically integrated, Motech Industries is the sixth largest solar cell manufacturer in the world, providing complete control over its supply chain and access to superior cell products. For additional information access http://www.motech-americas.com.
About Ray Angelini, Inc.
Ray Angelini, Inc. (RAI) is a commercial solar design build, solar maintenance, electrical construction, general construction, and power systems testing and commissioning firm. Founded in 1974 by Raymond J. Angelini as an electrical contracting company, RAI established a solar division in 2004 and has since completed solar projects throughout NJ, PA, DE and MD, including the Atlantic City Convention Center-the largest single-roof power array installation in the country at the time of completion in December 2008. RAI is recognized by NJBIZ magazine as the largest solar provider in NJ. RAI is a Butler Builder® construction professional. To learn more about Ray Angelini, Inc., please visit www.raiservices.com
Featured Product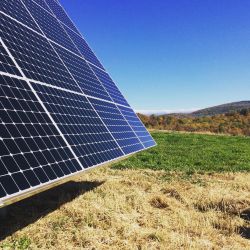 Designed and manufactured in the U.S., the AllEarth Solar Tracker is a complete grid-tied, dual-axis solar electric system that produces up to 45% more electricity than fixed systems. The tracker uses GPS and wireless technology to follow the sun throughout the day for optimal energy production. It has an industry-leading 10 year warranty and 120 mph wind rating, superior snow shedding, and automatic high wind protection. Its simple, durable design and complete system pallet simplifies costly procurement and installation time. Contact us about becoming a dealer partner or purchasing an AllEarth Solar Tracker.