Finalists of the CSP Today USA 2012 awards have been announced, and this is the first time the industry will vote live for the industry choice award.
London, CSP Today

Amidst the backdrop of a challenging US CSP market, there have been great efforts made to excel the industry forwards with advancements in technology, engineering, cost reductions and lobbying efforts. A lot of the hard work has happened behind the scenes which is playing a role in cementing the industry's position in the US for the long term.
On June 27 the CSP Today USA 2012 awards dinner will recognize the achievements of companies in five categories with only one of them taking the prestigious title and award for 2012. The highly esteemed judges have cast their vote and CSP Today has announced the following finalists:
CSP Technology and Supplier Award Finalists:
-Schott
-FosterWheeler
-Flowserve
CSP Engineering Performance Award Finalists:
-ACS COBRA
-Bechtel
-Fitchner solar
CSP Dispatchability Solution Award Finalists:
-Abantia
-Torresol
-Halotechnic
CSP Responsible Business Award Finalists:
-Solar Reserve
-Abengoa
-BrightSource energy
Industry Choice Award Finalists:
-Solar Reserve
-Torresol
-Tigercomm
-BrightSource energy
-Department of Energy
The CSP Today USA 2012 Awards will take place on the evening of June 27 at Caesars Palace, and will be an interesting event to watch companies raise the bar in the industry. There will be eager anticipation to find out who will come out as this year's winners, and learn about what they have done to positively impact CSP.
For more information about the awards visit:
http://www.csptoday.com/usa/awards-overview.php
Contact:
Heidi Hafes
t: +44 (0) 20 7375 7206
US toll free: 1800 814 3459 ex: 7206
e: heidi@csptoday.com
Featured Product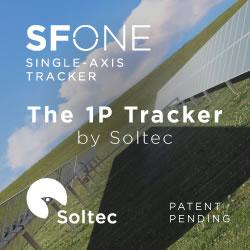 SFOne is the 1P single-axis tracker by Soltec. This tracker combines the mechanical simplicity with the extraordinary expertise of Soltec for more than 18 years. Specially designed for larger 72 an 78 cell modules, this tracker is self-powered thanks to its dedicated module, which results into a lower cost-operational power supply. The SFOne has a 5% less piles than standard competitor, what reduces a 75% the labor time.