Intersolar Europe and the Intersolar Europe Conference shed light on the solar markets of the future
Intersolar Europe

Munich, June 13–15, 2012
Munich, May 29, 2012 – As in many global markets, solar energy is on the rise in coun-tries across the MENA region (Middle East and North Africa). This has pushed economic developments ahead of policy developments: While some countries are currently work-ing on incentive programs for the future, rising energy prices are already boosting the profitability of renewable energy. Investment in solar energy is particularly worthwhile for countries dependent on oil and gas imports, such as Jordan or Morocco, or states that use large quantities of their own oil reserves for power generation, such as Saudi Arabia or Kuwait. The climate of optimism surrounding the industry is reflected in the numer-ous large-scale projects, such as the Mohammed bin Rashid Al Maktoum Solar Park in Dubai, which is currently at the planning stage. Once completed, the solar park is ex-pected to provide one gigawatt (GW) of power. From June 13âˆ'15, 2012, the world's largest exhibition for the solar industry, Intersolar Europe, sheds light on the markets, trends and technologies across the industry worldwide. The accompanying Intersolar Europe Conference from June 11âˆ'14, 2012 consolidates exhibition topics and creates a platform for international exchange. An all-day conference session is dedicated entirely to solar developments in the MENA region.
The recent study from the Emirates Solar Industry
Association (ESIA) and PriceWaterhouseCoopers (PwC) management consultants entitled Sunrise In the Desert gets to the heart of the current situation. With oil prices in excess of US$80, photovoltaics is competitive with fossil-fuel power generation in most countries in the region. The international price of crude oil has even lingered over the US$100 mark for some time, which has already given photovoltaics a strong upper hand in many applications. Off-grid solar installations in remote areas, for example, are even more efficient and cost-effective compared with grid-connected installations. These are clear signs pointing to growth in the region's solar industry.
Solar industry gain support from politics and industry
Faced with an increasing electricity demand driven by dynamic economic growth and energy-intensive industries, the MENA region could catch up with leading solar markets such as Germany, Italy and the USA by 2025. And the potential is vast: With solar irradiation reaching well over 2,000 kilowatt hours (kWh) per square meter per year, the solar energy yield is almost double that obtained in Germany. Furthermore, photovoltaic power plants, in particular, can be planned and built in significantly less time than many other types of power plant, meaning that solar energy also accommodates rapid economic growth.
Governments have now recognized the opportunity which solar energy generation holds for the region and the future of the energy supply: Dubai and Saudi Arabia are expected to pass comprehensive solar legislation in the next six to twelve months, according to Vahid Fotuhi, Co-Founder and President of ESIA. Abu Dhabi, Jordan, Kuwait and other MENA countries are expected to follow suit over the next year or two. Morocco is already one step ahead, having established the Moroccan Agency for Solar Energy (MASEN) over a year ago. According to Fotuhi, this optimistic atmosphere is hardly surprising: "Solar energy translates to economic growth in the region. Studies show that the gross domestic product increases by US$600 million per 100 megawatts (MW) of solar capacity installed."
PV power plants, electricity storage and grid integration
You can find out all you need to know about the latest solar technology, its applications and international growth markets at Intersolar Europe, the world's largest exhibition for the solar industry, from June 13–15, 2012. Around 2,000 exhibitors have 170,000 square meters to present products and solutions from photovoltaics, PV production technologies and solar thermal technologies. The comprehensive accompanying program with numerous forums and special exhibits offers an insight into the background and future of the industry and puts you in touch with the biggest players in the international industry.
At the PV ENERGY WORLD special exhibit in hall C4 booth C4.230, you can find out about future power grids and the latest storage technologies. The exhibition also focuses on PV power plants. Many German and international exhibitors have registered in this category to present products and services in the field of large-scale PV installations, from the latest system solutions through mounting systems and inverters, to monitoring technology and the newest modules.
MENA Region at the heart of the Intersolar Europe Conference
The Intersolar Europe Conference from June 11–14, 2012 accompanies and consolidates the topics of the exhibition. In total, 2,500 attendees and 400 speakers from all over the world are expected at this year's event. In addition to markets and technologies across the industry, the 2012 conference is also focused specifically on the solar industry and the future outlook in the Middle East and North Africa. On June 13, 2012, the all-day session entitled Global PV Markets: MENA Region is taking place from 10:00am at the ICM - Internationales Congress Center München. Global experts from Jordan, Morocco, United Arab Emirates and many other countries in the region are presenting national incentive measures and discussing short- and long-term market development.
The conference is also revisiting the topic of PV power plants. On June 12, 2012, the PV Power Plants session sheds light on pioneering aspects in this area, from system design through questions on financing large-scale installations and achieving optimum cost efficiency, to component and system quality management.
Intersolar Europe 2012 takes place from June 13–15 at Messe München.
Further information on Intersolar Europe can be found at www.intersolar.de
Partners of Intersolar Europe
Intersolar Europe is supported by the leading solar industry associations: the German Solar Industry Association (BSW-Solar) as an exclusive partner, the German Solar Energy Society (DGS), the European Solar Thermal Industry Federation (ESTIF), the International Solar Energy Society (ISES), the SEMI PV Group, and VDMA-PV, the association platform for photovoltaic production equipment within the German Engineering Association. With the support of the European Photovoltaic Industry Association (EPIA).
About Intersolar
With over 3,500 exhibitors and 120,000 visitors spanning three continents, Intersolar is the world's leading exhibition series for the solar industry.
Intersolar Europe takes place annually at the Messe München. Today, it is the world's largest exhibition for the solar industry. In 2011, 2,286 international exhibitors and around 77,000 trade visitors were welcomed to Intersolar Europe. The exhibition focuses on the areas of photovoltaics, PV production technologies and solar thermal technologies. Since its founding, it has become established as the most important industry platform for manufacturers, suppliers, wholesalers and service providers. The accompanying Intersolar Europe Conference consolidates the topics of the exhibition. In 2011, more than 400 speakers and around 2,500 attendees discussed current industry topics and investigated the background of technological, market and political developments.
Intersolar's storied history of international exhibitions and conferences spans more than 20 years. In 2008, Intersolar North America in San Francisco became the second exhibition after Intersolar Europe, followed by Intersolar India in Mumbai, and Intersolar China in Beijing, which was launched in 2011.
Featured Product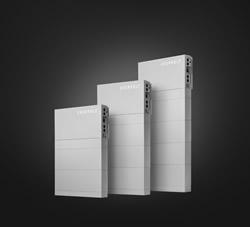 Extract maximum power production from every roof size and shape. HIT® AC Series combines the module efficiency of Panasonic solar panels with the intelligence of Enphase microinverters. A built-in IQ 7X microinverter with Individual MPPT (Module-level Power Point Tracker) tracking helps deliver an all-in-one module that offers design flexibility, reduced installation time, and a higher ROI. Field-replaceable microinverter with no DC wire management required yields lower cost of ownership.