One Year Assessment of DHi Blade Pitch Control Slip Ring with Metal Fiber Brushes in a GE 1.5MW Wind Turbine Validates 20-Year Brush Service Life
MANASSAS PARK, Va.--DHi® (Defense Holdings, Inc.®) of Manassas Park, VA and H&N Electric from Pasco, WA recently conducted an up-tower inspection of DHi's revolutionary blade pitch control slip ring featuring HiPerCon® Brand metal fiber brushes (electric brushes) after one year of slip ring operation at PacifiCorp, Inc.'s Leaning Juniper Site in Arlington, OR. The DHi slip ring had operated trouble- and maintenance-free over the year. Inspection revealed the HiPerCon metal fiber brushes exhibited immeasurable wear after a year of operation. All the wear debris from the brushes was able to be wiped up by a single "Q-tip" cotton swab. The slip ring internals looked as if the slip ring was new off the shelf. This inspection validated that these new HiPerCon® Brand metal fiber brushes (electric brushes) are capable of operating without maintenance for the life of the turbine. DHi's slip rings are designed to replace OEM blade pitch control slip ring in GE 1.5MW and 1.6MW SSB and ESS wind turbines. Since the first installation a year ago, H&N has ordered and installed these slip rings in many other locations in the United States and Canada. There have been no reported problems with any DHi unit installed in the past year of operations.

DHi's HiPerCon® Brand Metal Fiber Brushes vs. Metal-Graphitic Brushes or "Other" Fiber Brushes for Slip Ring Applications
DHi's Metal Fiber Brushes, or MFBs, which gain their name from the fact that they are electric brushes constructed of thousands of hair-fine silver alloy fibers running on their tips, offer significant improvement over other type brushes including carbon brushes, carbon-metallic brushes, and other metal type brushes. DHi's brushes provide superior current and data transfer, offering extended brush and slip ring service life of at least twice the service life of carbon and carbon–metallic brushes. They also offer high current capacity of 250 amps/sq-in and significant decreases in acoustic, mechanical, and electrical noise at sliding speeds up to 70 meters/second. These long life electric brushes produce 80% less wear debris than solid brushes and require ZERO lubrication, reducing the need for expensive maintenance and reducing the potential for short circuits and grounds. The little wear debris that is generated tends to settle to the bottom of the enclosure where it doesn't cause problems and is easily cleaned up rather than being distributed throughout the enclosure and causing shorts, grounds, and other issues. DHi Metal Fiber Brushes, with their low spring force, are far less likely to damage the slip ring surface than carbon brushes or carbon-metallic brushes. DHi Metal Fiber Brushes' silver alloy fiber also offers significantly better service life and higher sliding speeds over gold wire technology at a considerable price advantage. DHi's HiPerCon MFB slip rings can be supplied as a form, fit, and function replacement to most existing slip ring designs, as demonstrated with the GE 1.5MW wind turbine. The long life, high reliability, and low maintenance of HiPerCon Brand MFBs make them ideal for wind turbine use.
The North American Wind Service Alliance (NAWSA)
H&N Electric is owned by Denver, Colorado based Wazee Companies, LLC and is a member of NAWSA (North American Wind Service Alliance), which is North America's only integrated wind turbine service network dedicated to providing efficient and professional repair service for wind powered engines.
Rich Martin, DHi's President & CEO, On The New Slip Ring Technology
Rich Martin, DHi's President and CEO, states, "This one year assessment validates all our previous work in bringing this slip ring technology to the wind industry. The internals of the slip ring after one year of operation looked brand new. Anyone who has ever experienced cleaning out a carbon brushed slip ring can attest to the significant savings these brushes can bring to the wind industry in reducing operational costs. We are really excited to be working with H&N Electric and the NAWSA group of companies to bring our Metal Fiber Brush technology to the wind power industry. Our new and remanufactured slip rings with long life electric brushes offer up to a ten-year maintenance interval (cleaning/inspection) and at least a 200 million revolution Metal Fiber Brush service life."
DHi Pitch Control Slip Rings can be purchased by contacting H&N Electric at (800) 795-3537.
Visit us at Windpower 2012 in Atlanta June 3-6 at the Wazee Companies' booth #4215 and see our SSB and ESS slip rings for GE 1.5MW and 1.6MW wind turbines.
Founded in 1994 and originally operated as Noesis, Inc., DHi is a privately-held, service-disabled, veteran-owned, minority-owned, small business that works with customers to overcome the limitations of conventional carbon brushes and carbon-metallic brushes and slip ring systems. DHi is based in Manassas Park, VA with other facilities in VA and Trenton, NC. DHi has been ISO 9001 registered since 2003 and has received awards from the local, state, and federal government for outstanding technical innovation and performance.
H&N Electric specializes in working with customers on solving problems inherent with wind turbine generators and their associated components and provides a wide range of wind turbine repairs including, but not limited to, generator, gearbox, slip ring, bearings, and electrical repair both up and down tower.
Featured Product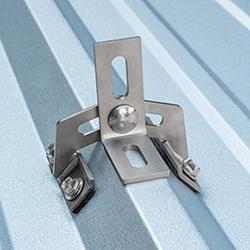 They have been changing the game for 10 years with their original Top Mount line for Asphalt Shingle roofs, and by now supplying one of the widest ranges of solar mounts in North America. From their patented products, to the custom production services they offer, QuickBOLT has been working with solar installers for nearly a decade to make solar installations easier than ever before.