Blue Sky Energy Donates Equipment to Advance Education and Sustainability
CALGARY, CANADA (May 21, 2012) - Solar product manufacturer Blue Sky Energy announced today that it has donated its Universal Communication Module (UCM) to a critical Wi-Fi pilot project in Calgary, Canada. Students at the School of Information and Communications Technologies (ICT) are employing the UCM in a solar-powered communications system which will supply phone and internet connectivity for emergency response, geological survey, and remote residential applications.

"Blue Sky Energy sees a pressing need to spark and sustain boundless local and global conversations and employ clean technology to serve the common good", says Blue Sky Energy VP of Marketing and Operations Melanie Cullen.
ICT students are mentored by prototyping lab Calgary Protospace, a local incubator for innovative technology ideas, and Think Energy, a renewable energy consultancy. Darryl Kaminski of Think Energy handpicked the "perfectly fitted and uniquely qualified" maximum power point technology or MPPT-compatible communication module for this project. The UCM's optimal durability exceeds the rigorous demands of operation in Calgary's harsh climate. Additionally, the resilient, military-certified unit shoulders extreme operating conditions without any downtime failure.
Protospace Director Ben Reed states that "traditional networks with similar capabilities are extremely costly, sluggish and exclusive, available to internet service providers only. We aim to remove these barriers of entry so that they can be deployed and operated by someone with little training in several hours."
The travelling device, born on an SICT campus rooftop, is currently stationed in nearby Heritage Park and will soon launch as a mobile museum exhibition touring through Canadian festivals this summer.
Featured Product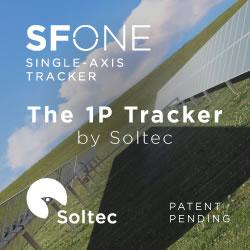 Soltec manufactures and supplies solar trackers designed and proven for extreme climate conditions, which is an ideal solution for any region's environment. Soltec's trackers are self-powered, requiring no additional PV module or grid-powered connection. Bifacial modules collect energy on both the front and rear sides, capturing reflected irradiance from the ground surface under and around the tracker and from other modules. Depending on site conditions, bifacial yield-gain can reach +30 percent.