License Covers Basic Material, Wire and Applications, Furthering AMSC's Market Leadership
Devens, MA – June 5, 2012 – AMSC (NASDAQ: AMSC), a global solutions provider serving wind and grid leaders, today announced that it acquired exclusive rights to a fundamental high temperature superconductor (HTS) patent in the U.S. The patent covers a broad range of second generation (2G) and similar HTS materials, wire and power-related applications. Additional information on the patent can be found in the Form 10-K that AMSC plans to file with the U.S. Securities and Exchange Commission later this month.

HTS materials and wire can enable dramatic reductions in the footprint and cost of megawatt-scale electrical equipment, such as power cables, motors and generators. Due to its reduced precious metal requirement and the process that is employed in its manufacturing, 2G wire is expected to be significantly less expensive to produce than first generation HTS wire when in high-volume production. This type of wire is currently being manufactured by many companies around the world, including AMSC.
"Since their discovery more than 25 years ago, HTS materials have been heralded for their promise to transform the generation, transmission and distribution of electrical power," said Daniel P. McGahn, President and CEO, AMSC. "Along with our partners worldwide, we at AMSC have begun to deliver on that promise with industry-leading capacity, production and order rates. Underlying our market position is an unparalleled intellectual property portfolio. This new license further strengthens this position and our ability to serve the U.S. market's 2G needs for years to come."
Over the course of the past two decades, HTS wire has been utilized to develop and deploy a variety of megawatt-scale systems, including:
· "Smart" power cables: Ideal for transmitting and distributing both direct current (DC) and alternating current (AC), superconductors can significantly boost power throughput, improve network efficiency, redundancy and reliability, reduce fault current levels and lower capital expenditures for electric utilities.
· Fault current limiters: These smart grid systems can help protect the grid by reducing the destructive nature of faults, thereby saving utilities equipment replacement and repair costs as well as avoiding outages and helping to ensure customer satisfaction.
· Wind turbine generators: The superior power density of HTS can enable smaller, lighter and more efficient wind generators that can be utilized to field higher power wind turbines and lower the overall cost of offshore wind power.
· Motors: Ultra-compact electric motors made with HTS tend to be half the size and weight of conventional copper-based motors of the same power and torque ratings. This can lead to significant space, weight and fuel savings for commercial and military ships.
About AMSC's Amperium® Wire
Amperium wire is AMSC's brand name for its 2G HTS wire. Amperium wire offers significantly higher power density and efficiency compared with similar copper-based wire products. As a result, electrical systems that incorporate Amperium wire are dramatically smaller, lighter and often more cost effective than comparable systems based on copper wire. Amperium wire is manufactured utilizing a proprietary process at AMSC's headquarters in Devens, Massachusetts - the world's largest commercial-scale HTS wire manufacturing facility. To learn more, visit www.amsc.com/products/amperiumwire.
About AMSC (NASDAQ: AMSC)
AMSC generates the ideas, technologies and solutions that meet the world's demand for smarter, cleaner … better energy. Through its Windtec Solutions, AMSC enables manufacturers to launch best-in-class wind turbines quickly, effectively and profitably. Through its Gridtec Solutions, AMSC provides the engineering planning services and advanced grid systems that optimize network reliability, efficiency and performance. The company's solutions are now powering gigawatts of renewable energy globally and enhancing the performance and reliability of power networks in more than a dozen countries. Founded in 1987, AMSC is headquartered near Boston, Massachusetts with operations in Asia, Australia, Europe and North America. For more information, please visit www.amsc.com.
Featured Product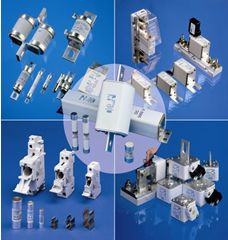 SIBA Fuses: your trusted source for all your circuit protection applications, from solar power to wind power. We are the world leaders in these applications and the most trusted name for your circuit protection needs. We have been working for over 70 years in semiconductor fuses, including ULTRA RAPID®, medium, and high voltage, standard European, miniatures, electronic fuses, and a wide range of DC rated fuses (24 VDC - 5000 VDC) for all types applications. We work with medium and high voltage fuses for protection of transformers, including submersibles, motors, medium and high voltage switchgear, compact substations, cable feeders, and high voltage capacitor circuits. New: Full line of PV UL Listed fuses and fuse holders. Contact us today for more information on our products and services.