First installation using Conergy's "Elevated Agricultural Solar Structure" Concept
Lamont, CA June 5, 2012 – Conergy's Solar Large Projects Group continues to lead the industry in project development services and design innovations for solar energy projects. Conergy recently completed construction and installation of a fixed tilt ground and roof-mounted 510kW solar electric installation for Kirschenman Enterprises Inc. at their cold storage facility. Conergy was the project developer, EPC provider for this project and it helped secure a financing vehicle that made the project possible and successful. Using Conergy's PH 235P solar modules and Conergy's SunTop and SolarLinea II mounting systems the solar system will produce 768,182 kWh of clean solar energy annually which is equivalent to reducing CO2 levels by 15,063 tons over 24 years or not driving 49,018,344 miles and planting 258.1 acres of trees. Besides the environmental benefits, Kirschenman Enterprises will offset their electrical costs now and in the future enabling long term profitability and savings.

This project marks a number of "firsts" – for the region, for Kirschenman Enterprises and for Conergy. This is the first solar system installed in the region using the Conergy concept of an "Elevated Agricultural Solar Structure." The new structure is 20 feet tall on the lowest edge and does not interfere with the loading dock operations beneath it. This is also the first solar system being installed for Kirschenman Enterprises. The system is aesthetically pleasing and works well with the natural landscape. "The Elevated Ag Solar Structure design is cutting edge and really works well for agricultural facilities who might not otherwise have the room for solar" says Conergy Project Development Manager David Vincent, "It is a great concept and I expect to see many other Agricultural facilities utilizing the design".
Kirschenman Enterprises Inc is a located in the San Joaquin Valley. Conergy worked with them to find a solar solution that worked with their needs and was a benefit to both them financially and to the environment. Kirschenman Enterprises is doing everything it can to increase the long term sustainability of its farming operations. The installation included 2 ground mounted systems, as well as 3 roof mounted systems by usage of Conergy concept and design of the Elevated Agricultural Solar Structure.
"Conergy offers global strength powered by local expertise. With over 500 MW of global experience, we apply best practices that the company has learned at a global level to every project's local situation and needs. Our dedicated team of solar energy professionals offer a wide-range of tailored services in project development, from planning and engineering to financing and from EPC to O&M. With a strong pipeline of projects combined with our expert team, Conergy expects to be a major player in the growing sector of solar projects in North America," stated Anthony Fotopoulos, President of Conergy North America.
About Conergy
Conergy delivers solar energy systems from a single source. As a system supplier, Conergy produces all components for a solar installation and offers all services under one roof.
With its modules, inverters and mounting systems, the solar expert creates Conergy System Technology, which is efficient solar energy systems for private or commercial rooftops, as well as for multi-Megawatt Parks. Conergy System Services deliver a "Worry-Free Package" for Conergy solar installations – from "A" for architectural planning to "Y" for yield insurance and "Z" for zero trouble. Conergy's experts not only install on-site turn-key solar projects, but they also manage the planning and financing, project implementation, system monitoring, operation and on-going maintenance of the project for maximum performance. With this comprehensive technology and service package, Conergy offers yield insurance for its installations. Conergy System Sales brings Conergy premium products to nearly 40 countries. From "A" for Australia to "T" for Tunisia – the solar expert supports homeowners, installers, wholesalers and investors in their efforts to "go solar". With sales activities on five continents, Conergy has close relationships with all its customers. In 2010, more than half of Conergy's sales were generated outside of Germany.
Featured Product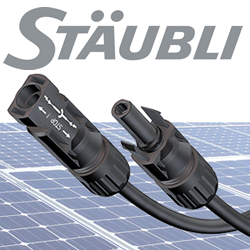 ​Stäubli Electrical Connectors are used on more than 300 GW, over 50% of the PV capacity worldwide. The MC4 family of UL and TUV listed products include connectors, in-line fuses, branch connectors, cable assembly and more.