On March 20th, 2012, the United States Environmental Protection Agency (EPA) announced proposals for a Significant New Use Rule (SNUR) in regards to five chemicals targeted for significant new use requirements under the Toxic Substances Control Act (TSCA).
The five classes of compound targeted for significant new use requirements under the Toxic Substances Control Act (TSCA) are polybrominated diphenyl ethers (PBDEs), benzidine-based chemical substances, di-n-pentyl phthalate (DnPP), C12-C13 chlorinated alkanes and hexabromocyclododecanes (HBCDs). Once the EPA determines that a use of a chemical substance is a significant new use, TSCA section 5(a)(1)(B) requires manufacturers to submit a Significant New Use Notice (SNUN) to the EPA at least 90 days before they manufacture or process the chemical substance for that use (15 U.S.C. 2604(a)(1)(B).

While TSCA (http://www.epa.gov/lawsregs/laws/tsca.html) normally affects only producers of chemicals, the EPA proposes that businesses importing or processing HBCD as part of an article for use in consumer textiles (except for use in motor vehicles) would not be exempt from submitting a SNUN. Any manufacturer who intended to import a PBDE as part of an article for a significant new use would be subject to significant new use reporting.
Manufacturers or importers providing notification would give the EPA (http://www.epa.gov/) time to evaluate activities associated with the new use and protect consumers from any potential unreasonable risks arising from exposure to the chemicals. These chemicals can be carcinogenic, they can cause reproductive harm and they can be toxic to the environment.
Businesses potentially impacted by this proposed regulation include manufacturers using PBDE in the areas of textile, furniture, polyurethane foam, electronics equipment, paper, printing ink, high impact polystyrene, benzidine-based chemical substances, leather, textile, and ABS plastics.
Another group of manufacturers who could be affected are those using HBCD. This is with particular regard to painting and wall covering contractors, textile and fabric finishing mills (except broad woven fabric), household furniture (except wood and metal), mattresses and curtain and drapery mills. A third affected sector will be those businesses that use DnPP in plastica and resins and chlorinated alkanes for petroleum lubricating oil and grease.
The data for DnPP and the chlorinated alkanes indicates that these compounds are no longer in production in the US in reportable quantities (< 10,000 pounds) and any application of HBCD for consumer textiles or Benzedrine-based chemicals generally, would constitute a significant new use as there are no present applications.
About SGS Restricted Substances Testing Services
SGS continues to monitor the development of these SNURs and provides updates when significant changes have occurred. With a global network of laboratories, SGS is able to provide a range of services, including analytical testing and consultancy for restricted substances (http://www.sgs.com/en/Consumer-Goods-Retail/Hardgoods/Home-Furnishings-and-Houseware/REACH/Substance-Identification.aspx) in consumer products for the US and international markets.
For further information please contact SGS.
SGS Consumer Testing Services
Paul Milne, Ph.D.
Technical Manager, Restricted Substances Testing Services
SGS – North America
291 Fairfield Avenue
Fairfield, NJ 07004
USA
t: +1 973-461-1512
Email: cts.media@sgs.com
Website: http://www.sgs.com/pages/consumer-testing/sgs-consumer-goods-and-retail.aspx
ABOUT SGS
SGS is the world's leading inspection, verification, testing and certification company. SGS is recognized as the global benchmark for quality and integrity. With 70,000 employees, SGS operates a network of over 1,350 offices and laboratories around the world.
Featured Product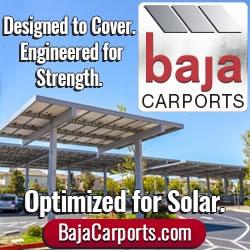 Baja Carports offers an extensive solar support system product line customized to customers' site specifications by in-house engineers, meeting their parking lot coverage, plus optimal PV production needs. Baja's Full Cantilever Tee is often paired with its Semi and Full Cantilever carports to meet live/loads up to 60psf and wind speeds to 160mph. All Baja products are pre-fabricated, bolted connections, pre-galvanized structural steel for fast on-site installation and project aesthetic requirements."